The Fashionable and the Furious: 2012 Fashion Fete Review
July 11, 2012 • By Alicia Ramsay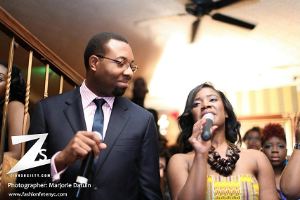 The exclusive Le Souk Lounge & Restaurant in Greenwich Village was the hub for the second annual Fashion Fete on June 28, 2012 which delayed dozens of guests on the staircase leading to the second level due to the fully occupied venue.

NEWD's managing editor Tiffani Knowles co-hosted alongside Nigerian comedian NaMo who kept the crowd entertained and engaged.
This year's Fashion Fete was well attended, with over 300 attendees. VIP guests included Miss Full Figure USA 2011 Tiah Knox, Miss Africa NY 2011 Angela Maina, singer/vocal coach on MTV's Made Jeremiah Abiah and Broadway actress from The Color Purple Jeannette Bayardelle.

"Through inspiration and positive reinforcement about love and the things that God has created us for, I think that you can end up planting seeds in people's lives in a very organic way," said Abiah about how art and music can resonate with someone's soul.
Models, both petite and plus sized, graced the venue coordinated by Dominique McPherson, Tanisha Fraser, Alan Jean and Donna Marie.
They catwalked to designs by Fashion Fete veterans including JK Experience of New Jersey, Ethel Fashion of St.Vincent and the Grenadines and Pauline Asmah Designs of Ghana as well as new comers including India Marcel of Long Island, Eddy and Bri of New York, Stunning Stilettos of New Jersey and LeGair Brand Fashion of Ohio by way of the island of Dominica.

From evening and swimwear to casual get ups attendees were able to view a variety of designs which all made a statement.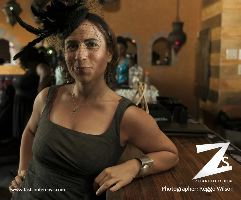 JK Experience displayed their symmetrical part-black, part-color dresses of their newest Armor Edition, which takes its inspiration from Ephesians 6:11-18 as models like Neena Brown and Meisue Francis showed off the intricate facets of the frocks.
Ethel Fashion showcased a color scheme of whites and blues as designer Donna Weekes presented elegant satin jumpers and rompers including a long, flowing goddess dress worn by Nadirah Pierre.
Pauline Asmah broke out her new summer fashions from the motherland with vibrant West African textiles and matching tote bags with models like Shauna McElveen who accentuated each bold print with a very deliberate and sultry cat walk.
India Marcel boasted the very first set of designs on the runway that are made to complement the full-figured woman. Her casual, ready-to-wear dresses served to highlight the figures of models like Aissatou Diallo and Techla Nesbitt.
Eddy & Bri, an online boutique, broke out their bold maxi and strapless color block dresses as the grand finale to the show. Plus models like Nicole Dupree and Joy Ashley moved like fire down the runway.
The accessory designers included Open Smile Embrace, OmoYeni Creations and DBU Jewelry.

The fashion scene didn't overpower the main purpose of the event, which was to allow Christian businesses the opportunity to network and mingle with other promising businesses within the faith.

Spotlighted businesses included stylists Alicia Gibbs, Candace Cort, Heather Hughes and Neivha Levine, hair stylists Princesa Bosch, D'Andra Fullard, We Love Hair and Bea's Royal Salon and Spa, make up artists Tanaya Johnson, Yasmeen Duncan, Dawn Marie, Tameeka Lee and Lian Parris, author Roschelle McKenzie, Irene's Secret, author Andre Harrison, author Rachel Renee Smith, Tamla and Christiana John of CAN, Church Boy Clothing, hair stylist Adanna Munroe, Global Christian Event Network and Tatiana Jewelry.


Throughout the evening guests were kept on their feet with the musical stylings of DJ So Fressh along with hip-hop artist Ishmael Rouse of Nikeo Music group, spoken word artist Desiree Renee and neo-soul singer Elasea Douglas.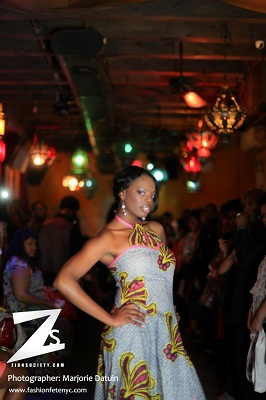 "Beautiful fashion, incredible talented designers," said Desiree Renee, who performed a spoken word piece about beauty and self-worth as the full-figured fashions of India Marcel took to the runway. "This was a top-notch, celebrity status event."
Amidst the guests and VIPs were several press representatives including Robert Mitchell, John Rickenbacker Jr. and Janelle Drysdale of Soundbooth TV & Radio, Divine Muragijimana of Applause Africa, Andre Mullen and Ricky Colon of FNF Live/Fuego TV, Kori Raishon of DPVN of Latoya Smith of Black Enterprise, Niya Allen of Zoe Life Magazine, Terica Price of Lareena's Corner and fashion blogger Latoya Ramos.
The night concluded with a luxury raffle which included items by contributing sponsors and corporate sponsors LifeZone Television, Family Life Day & Night Care and Scotch Bonnet Grill.
Event coverage of Fashion Fete NYC 2012 will be televised on LifeZone Television on Saturday, July 14 at 5:40 p.m. EST.

Fashion Fete 2012 was sponsored by NEWD Magazine, Pampered Kisses, Statuesque Events, D2LAL and Zion Society/The Vision 3 Group.
Click here to view event photos of Fashion Fete NYC 2012.

Visitor Comments (0)
Be the first to post a comment!
Is the human being so naturally inclined to deceive? Columnist V. Knowles gives evidence for why we so often tend to hide, shroud and cheat
Isn't love anything but ordinary? Well, South Florida's dancehall reggae artist Ordinary proves that statement to be oh-so-wrong! Music critic and columnist Billy Delgado dishes about Ordinary's newest 2-disc album Love and Relationships.
Another how-to guide? ___________ for Dummies? Well, don't knock it yet! Columnist Shari Grant raves about the brand new career guidebook by first-time author Marie Saul. It's not stuffy or snooty. It's real, she says.
Back To Archives