JGneXt Drama Troupe Takes Over Sunday Service
September 5, 2012 • By Tiffani Knowles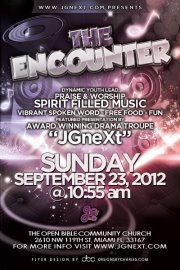 JGNeXT in association with The Open Bible Community Church presents: "THE ENCOUNTER" on Sunday, September 23, 2012.


A dynamic youth-led Sunday service, attendees will experience youthful praise and worship, spirit filled music, vibrant spoken word and a feature presentation by the award winning drama troupe JGneXt.


This non-traditional worship service will be held at the Open Bible Community Church at 2610 NW 119th St in Miami, Florida.
View this video presentation for more details.

For more information, visit www.jgnext.com

Visitor Comments (0)
Be the first to post a comment!
Is the human being so naturally inclined to deceive? Columnist V. Knowles gives evidence for why we so often tend to hide, shroud and cheat
Isn't love anything but ordinary? Well, South Florida's dancehall reggae artist Ordinary proves that statement to be oh-so-wrong! Music critic and columnist Billy Delgado dishes about Ordinary's newest 2-disc album Love and Relationships.
Another how-to guide? ___________ for Dummies? Well, don't knock it yet! Columnist Shari Grant raves about the brand new career guidebook by first-time author Marie Saul. It's not stuffy or snooty. It's real, she says.
Back To Archives