iPhone 5 Launches Brawl in Chinese Factory
September 26, 2012 • By Alicia Ramsay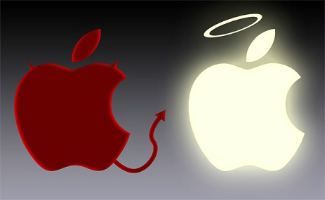 A brawl broke out late Sunday at the Chinese company responsible for manufacturing Apple products due to an increase in labor hours associated with the iPhone 5 launch.

About 2,000 Foxconn workers were involved in a dispute earlier late Sunday, September 23 in Taiyuan, Northern China which led to arrests early Monday morning.
According to reports, 40 workers were injured at the plant.
Foxconn is an electronic manufacturer owned by Taiwan's Hon Hai Precision Industry Co. Foxconn produces products for Apple, as well as HP, Nokia, Dell Microsoft and Hewlett-Packard Co.
Apple's launch of the iPhone 5 on Friday, September 21 caused an increase in labor hours at the Taiyuan plan. That, in addition to poor working conditions, is said to be the cause of the Chinese workers' uproar.
In March of this year, Foxconn raised minimum wages and promised fewer work hours after an auditor hired by Apple discovered that the employees were being overworked.

According to news reports, Sunday's brawl was the result of the employees being mistreated by Foxconn's security guards and managers.
In 2010, a series of suicides forced the company to install nets to catch jumpers. Since then, they have also hired a large number of psychological counselors and began a 24-hour care center.

According to the Huffington Post, in 2011, workers at the Foxconn's Chengdu factory had to sign a pledge not to commit suicide.

"In the event of non-accidental injuries (including suicide, self-mutilation, etc.), I agree that the company has acted properly in accordance with relevant laws and regulations," the pledge stated. "And will not sue the company, bring excessive demands, take drastic actions that would damage the company's reputation or cause trouble that would hurt normal operations."

If the company detects abnormal physical or mental problems, workers agree to be sent to the hospital. Some workers, however, see this as a tactic for the company to institutionalize them.
About 1.2 million workers labor in factories across China in the cities of Taiyuan, Shenzhen, Chengdu, Chongqing and Zhenzhou.
Apple no longer employs other factories that violate overtime and child labor laws.

The plant where the brawl took place was re-opened for work today.

Visitor Comments (1)
Is the human being so naturally inclined to deceive? Columnist V. Knowles gives evidence for why we so often tend to hide, shroud and cheat
Isn't love anything but ordinary? Well, South Florida's dancehall reggae artist Ordinary proves that statement to be oh-so-wrong! Music critic and columnist Billy Delgado dishes about Ordinary's newest 2-disc album Love and Relationships.
Another how-to guide? ___________ for Dummies? Well, don't knock it yet! Columnist Shari Grant raves about the brand new career guidebook by first-time author Marie Saul. It's not stuffy or snooty. It's real, she says.
Back To Archives