Hurricane Sandy Shuts Down City, FEMA responds
October 30, 2012 • By Tiffani Knowles
Due to Hurricane Sandy's violent winds and deluge of water last night, much of the Northeast United States has been submerged in water, shutting down public transport, city hospitals and schools.
As of Monday night, seven New York City subway tunnels under the East River were flooded the Metro-North Railroad, which covers New York City, upstate New York and Connecticut, lost power on much of its train line and the Long Island Rail Road evacuated its West Side Yards and suffered flooding in one East River tunnel.
New York was among the hardest hit with 18 pronounced dead. The storm caused the worst damage in the 108-year history of the city's subway system.
"This was a devastating storm, maybe the worst that we have ever experienced," New York City Mayor Michael Bloomberg said.
Bloomberg and the power company said it could be the weekend before the lights come on and full public transportation is restored for the 8 million people who live in the city that never sleeps.
The city being the financial capital of the U.S., many wondered how long until employees could return to Wall Street. After being closed for two days, the New York Stock Exchange will be back in business tomorrow at 9:30 a.m.

The death toll from Sandy in the U.S. is set at 39 as of Tuesday. Sandy also killed 69 people in the Caribbean before making its way up the Eastern Seaboard.

President Obama has now issued emergency declarations for Connecticut, Delaware, the District of Columbia, Maryland, Massachusetts, New Jersey, New York, Pennsylvania and Rhode Island. The President's action authorizes FEMA to coordinate all disaster relief efforts to provide assistance for required emergency measures to save lives and to protect property and public health and safety.
Currently, more than 1,500 FEMA personnel are positioned along the East Coast working to support disaster preparedness and response operations, including search and rescue, situational awareness, communications and logistical support.

FEMA distribution centers have an overall inventory of more than 5 million liters of water, 3 million meals, 900,000 blankets and 100,000 cots available for emergencies like this one.
Ironically, this federal agency has been a point of contention for Obama who proposed cutting funds to FEMA by 3 percent next year and presidential candidate Mitt Romney, who proposed to cut its funding by 40 percent.
Stephanie (whose last name was not provided) of Brooklyn, New York told NEWD Magazine that she and her family were painting their apartment at 4:30 a.m. on Tuesday morning when a tree burst into her room.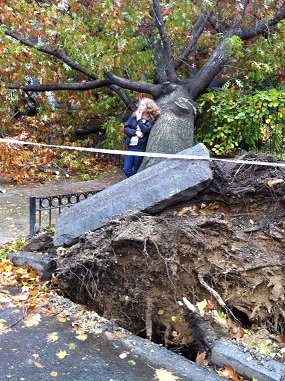 "It pushed my air conditioning about 6 feet into my room," she said. "It was like, "Wow, there's a branch full of leaves in my home."
Stephanie is documenting the damage, which consists of an uprooted tree atop her home's steel gate and vehicle including branches that broke through the windows of her several-story building, to apply for assistance with FEMA.
Under President Obama's major disaster declaration issued for New York, people affected by the hurricane can apply for things like payment for removing debris, rent for temporary housing, grants for home repairs and personal property, grants for health assistance and funeral arrangements, unemployment payments up to 26 weeks for workers who temporarily lost jobs because of the disaster and low-interest loans to cover residential and business losses not fully compensated by insurance.
Those in the county designated for assistance to affected residents and business owners can begin the disaster application process by registering online at www.DisasterAssistance.gov, by web enabled mobile device at m.fema.gov or by calling 1-800-621-FEMA (3362).

Until further notice, the following institutions remain closed in New York for Wednesday, October 31:
New York City parks
New York City beaches
New York City subway

New York City's three major airports
District public schools in Norwalk, Trumbull, and Stratford, Baltimore City, Newark, Philadelphia, and New York City
New York City colleges and universities

NYC Broadway theaters

Visitor Comments (0)
Be the first to post a comment!
Is the human being so naturally inclined to deceive? Columnist V. Knowles gives evidence for why we so often tend to hide, shroud and cheat
Isn't love anything but ordinary? Well, South Florida's dancehall reggae artist Ordinary proves that statement to be oh-so-wrong! Music critic and columnist Billy Delgado dishes about Ordinary's newest 2-disc album Love and Relationships.
Another how-to guide? ___________ for Dummies? Well, don't knock it yet! Columnist Shari Grant raves about the brand new career guidebook by first-time author Marie Saul. It's not stuffy or snooty. It's real, she says.
Back To Archives