FNFlive Radio Show Leaves La Nueva FM
December 24, 2013 • By Tiffani Knowles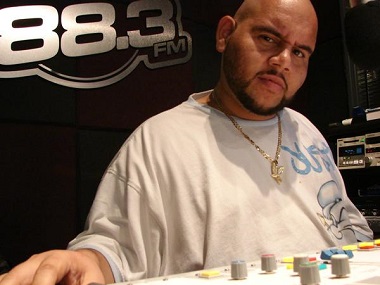 FNFLive, a popular bilingual Christian hip hop radio show, will host its final show on La Nueva 88.3 FM on December 27 at 10 p.m. EST.
After broadcasting on Miami's top Spanish FM radio station La Nueva 88.3 FM (WGNK) since 2002, FNFLive will no longer have its Friday night slot on the station due to La Nueva's decision to head in a different direction in programming. The bi-lingual urban show played every Friday night in the city of Miami.
The final show already bears a social media hashtag ID -- #TYFNF. The finale will include many of the individuals who have been a part of the show since its inception like JBlaze, DJ Soundwav, Butta P of Rhema Soul, and others.
"After almost 12 years, it's that time. It's truly hard to say goodbye because I've always understood that there is still that one artist who hasn't been discovered," Jblaze told JamtheHype.com.
JBlaze aka Manuel Garcia, the founder of FNFLive and its spinoff internet radio show and Fuego web TV channel, was responsible for providing a media platform for most of South Florida's urban gospel artists like Rey King, Rhema Soul, Cheno Lyfe, Anthony Rose, Probably Pablo, Mr. E, Authentik, and Social Club for over a decade.
Manuel has interviewed heavy hitters in the Spanish and English markets like Funky, Redimi2, Manny Montes, Andy Mineo, Sho Baraka, Tye Tribbett, Derek Minor, Trip Lee, Mali Music, Toby Mac and others.
Jblaze has not yet decided what the future of FNFLive will be at the time. He will give his Twitter followers updates on what's next in the near future. Follow Jblaze to stay updated on the future of FNFLive: @JBLAZE305.

Visitor Comments (0)
Be the first to post a comment!
Since the tragic massacre that took place in Orlando, Donald Trump is tapping into and exploiting the fear and basest instinct of the American. "Can you imagine what they'll do in large groups, which we're allowing now to come here?" he said of Muslims in America. Columnist V. Knowles speaks of freedom as choice.
While Donald Trump insults everyone in his path, Carlos Beruff, son of Cuban refugees seeking the senatorial seat in multicultural Florida, has gone on record calling President Barack Obama an animal.
As a kick off to Caribbean Heritage Month in the U.S., arts and museum educator Stephanie Cunningham is hosting a panel discussion called "Caribbeanness Expressed Through the Lens of Arts and Culture" at the Bronx Arts Space, 305 East 140th Street #1A in Bronx, New York on June 5 from 1-4 p.m.
Back To Archives