FNFlive Radio Show Leaves La Nueva FM
December 24, 2013 • By Tiffani Knowles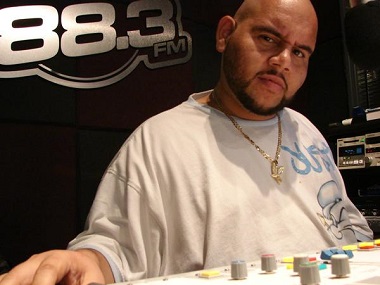 FNFLive, a popular bilingual Christian hip hop radio show, will host its final show on La Nueva 88.3 FM on December 27 at 10 p.m. EST.
After broadcasting on Miami's top Spanish FM radio station La Nueva 88.3 FM (WGNK) since 2002, FNFLive will no longer have its Friday night slot on the station due to La Nueva's decision to head in a different direction in programming. The bi-lingual urban show played every Friday night in the city of Miami.
The final show already bears a social media hashtag ID -- #TYFNF. The finale will include many of the individuals who have been a part of the show since its inception like JBlaze, DJ Soundwav, Butta P of Rhema Soul, and others.
"After almost 12 years, it's that time. It's truly hard to say goodbye because I've always understood that there is still that one artist who hasn't been discovered," Jblaze told JamtheHype.com.
JBlaze aka Manuel Garcia, the founder of FNFLive and its spinoff internet radio show and Fuego web TV channel, was responsible for providing a media platform for most of South Florida's urban gospel artists like Rey King, Rhema Soul, Cheno Lyfe, Anthony Rose, Probably Pablo, Mr. E, Authentik, and Social Club for over a decade.
Manuel has interviewed heavy hitters in the Spanish and English markets like Funky, Redimi2, Manny Montes, Andy Mineo, Sho Baraka, Tye Tribbett, Derek Minor, Trip Lee, Mali Music, Toby Mac and others.
Jblaze has not yet decided what the future of FNFLive will be at the time. He will give his Twitter followers updates on what's next in the near future. Follow Jblaze to stay updated on the future of FNFLive: @JBLAZE305.

Visitor Comments (0)
Be the first to post a comment!
Have you ever heard children accusing each other: That's not fair! Indeed, every one of us at some time or another before we leave this earth will utter the same words. Days after crooks broke into the former church of columnist V. Knowles, he has gleaned a lesson for all.
Entertainment publicists Ken Gladden of NYC's Flatiron Studios and Gabby Cudjoe-Wilkes of Brydge Media Collective collaborate on a one-day music conference intensive this Saturday, August 23 for music business enthusiasts and aspiring artists.
In order to celebrate the kinks and coils native to Black women, Black Natural Hairstyles is partnering with One Throne Apparel to launch a T-Shirt line encouraging all women to "Keep It Kinky."
Back To Archives