Former Apprentice Stars Denounce Donald Trump
April 18, 2016 • By Tiffani Knowles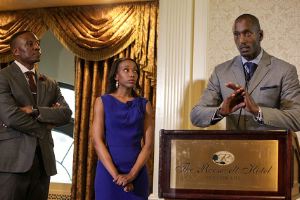 Four former contestants on NBC's reality show "The Apprentice" have joined forces to denounce their former mentor Donald Trump and his bid for Republican presidential nomination.
In a press conference on Friday, April 15 in New York – just four days before the New York presidential primary – Season 4 winner Dr. Randal Pinkett gathered a small cohort of former contestants who say they appreciated the opportunity and exposure that the TV show and employment with Trump afforded them, but they "strongly condemn Donald's campaign of sexism, xenophobia, racism, violence and hate."
Former contestants in attendance included: Tara Dowdell of Season 3, Marshawn Evans Daniels of Season 4 and Kwame Jackson, Season 1 Runner-up.
"I can't say that there was rampant sexism or rampant racism on "The Apprentice" when I was there. I believe this was a Dr. Jeckyll and Mr. Hyde evolution," said Jackson. "The Trump that I knew a dozen years ago is not the Trump that I see now. The Trump that I saw a dozen years ago is someone where I'd go on the show, learn from and participate with and have fun with and take him for all his good bad and ugly. The Trump that I see now, I'd never go on the show with."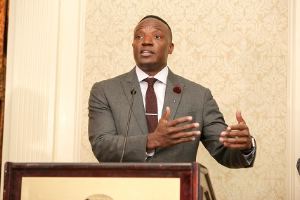 Evans, who is a former sports attorney turned motivation and branding expert, admits that Trump was "infectiously inspirational" when she first met him, but she now looks upon his political views with "horror and disgust."
To that point, Dowdell claimed that it would be irresponsible for them not to speak out because she believes that it was in part due to the fame of "The Apprentice" that Trump has become such a household name.
"Some of my colleagues from the show are supporting him and so we needed to be a counterweight," she said.
Dowdell, the owner of the Tara Dowdell Group – her own marketing and PR firm - pointed out that their cohort is a group of entrepreneurs and business owners, giving them more freedom to speak these dissenting remarks.
Pinkett added that many of their White counterparts on "The Apprentice" didn't want to risk coming forward and jeopardizing their jobs in senior-level positions in Corporate America.
Pinkett and Jackson, who slapped hands or "gave dap" when Jackson retreated from the podium shared that, while working with Trump, they noticed his egoism, arrogance as well as his reluctance to promote people of color.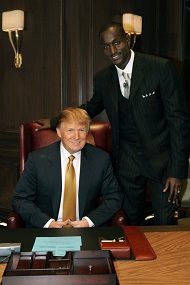 "It was clear that there were no persons of color in leadership positions in the Trump Organization. Not in a casino, not in real estate, not on a golf course. There was no Juan Gonzalez or Tyrone Johnson anywhere in leadership," said Jackson. "That was my experience in my season and, when Randal came along, he saw the same thing."
Jackson, who is an alumnus of INROADS – a career development organization that develops and places talented minority youth with major U.S. companies for the purpose of grooming them for corporate leadership – claims that he could never see Trump being a sponsoring company for an organization like INROADS.
Evans Daniels agrees and said that Trump is "trumpeting the smallest thinking" by being non-inclusive of these groups.
"Big thinking is about thinking beyond our own self-interests," she said.
Here's a snippet of the Apprentice-led press conference on Friday, April 15:

Visitor Comments (0)
Be the first to post a comment!
After attending the fifth grade graduation and awards ceremony of my 11-year-old granddaughter at the second largest Christian school in Miami-Dade County, can you tell that "no race-mixing" was a thing of the past?
In Which Major Athletes Can We See Divine Inspiration?
Among the 1 million Cubans living in Greater Miami, most would be considered rubio by Cuban standards. They are fair-skinned with light eyes. Yet, two-thirds of the population in Cuba is Black. Where is this community?
Back To Archives