Cora Jakes Tells Of Childhood Fear of Father, Inspiring Women to Have Faith
September 15, 2016 • By Tiffani Knowles
Hoping to inspire and actuate women in a community where 37 percent of their homes are run by a single parent, The Faith Center church in Sunrise, Florida brought together female minister heavyweights Richelle Williams, Cora Jakes and Cindy Trimm in a Women's Empowerment Seminar on Saturday, September 10.
The event started with a panel discussion designed to motivate hundreds of women out of cycles of defeat with pep talks from people like Faith Center's own Dr. Traci Lynn, Elder Charlotte Wright, Pastor Rosanell Serra and Williams, the daughter of the late Bishop Isaiah Williams of Jesus People Ministries.
The speakers offered a constant reminder to the group to pursue a circle of destiny women to surround them but to also value themselves highly.
"We allow people to put us on clearance," said Wright. "We discount our value. We're supposed to be going for thousands but we keep making people
devalue us. When people go to museums, they put on gloves to handle them. We are museum pieces."
Serra admonished women of their errors concerning self-concept by alluding to the story of Hannah in the Bible, who pined day and night over the fact that she didn't have a child. (1 Samuel 1:1-11)
"Don't magnify the one thing that you don't have that you forget all the things that God blessed you with," said Serra.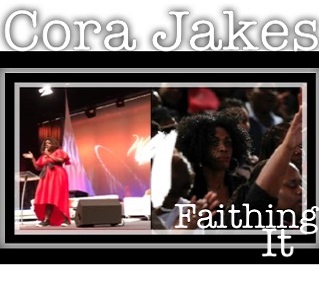 Jakes, the eldest daughter of Bishop T.D. Jakes – founder of Woman Thou Art Loosed conference, kicked off the keynote addresses with a message that stemmed from her new book,Faithing It.
Jakes, who has battled with infertility for years, informed the women about how to handle the hurts of enduring life's disappointments, instead of speaking to the victories post-disappointment.
"As a little girl, my daddy - you know how loud and deep my dad's voice is – he would call my name from downstairs – when you hear him, you're contemplating repenting and fasting down the stairs…immediately there's a fear because I know my father has the power to bring about danger to my life…power to put me in time out, to "whoop" me," she said, as the audience roared with laughter. "As my father, he has that power. So, why do you give the power of fear to something that doesn't have the power to destroy you? Why do you give power to people, to their opinions or thoughts?"
Cindy Trimm, empowerment specialist and author of Commanding Your Morning, closed the event with a new interpretation on the Mary vs. Martha story in the New Testament (Luke 10:38-42).
"Martha represents a figure of rebellion and control over Mary, who wants to be at Jesus' feet," she said. "She thinks she's better than everyone else. That's a Martha spirit. She has OCD and a strong personality."
All in all, women left believing that their difficult situations can be used to polish and refine them.
Trimm, one of the world's most renown "prayer generals" will be featured as a keynote speaker at next year's International Prayer Summit in January in New York City. To register for this free conference, visit www.klministries.org
Tasha Phipps contributed to the reporting of this story.

Visitor Comments (0)
Be the first to post a comment!
You started a new relationship…or get married and you tell yourself that you are going to focus on each other. Make no mistake, though…there are "other" relationships you are bringing into this new fire love relationship, and these other types of relationships could make or break your love relationship (or marriage) this year!
Inspired by a true story, here is a first person account of how negging, the act of emotional manipulation using backhanded compliments, turns into emotional abuse. Breaking up is hard to do!
People are so afraid of being called selfish, self-absorbed, inconsiderate, thoughtless and uncompassionate, they forget to think and care about themselves.
Back To Archives