Gillum Could Become First Black FL Governor
August 29, 2018 • By Tiffani Knowles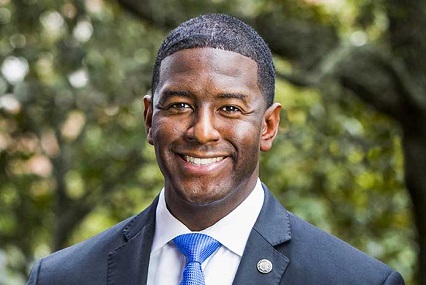 The last major primary night, August 28, before the November election was a major upset for former Rep. Gwen Graham but a victory for Tallahassee Mayor Andrew Gillum in the Florida Democratic gubernatorial nomination.
If Gillum defeats Republic Ron DeSantis in the Nov. 6 election, he would become Florida's first black governor.
Gillum's victory -- particularly in a state as crucial to the presidential primary and general election process – will have lasting effects.
Gillum is originally from Miami, Florida and is the son of a bus driver and a construction worker.
He was the fifth of seven children and the first to graduate from high school. He went on to attend a historically black college, Florida A&M University in Tallahassee and graduated with a degree in political science. He is 39.
Gillum's victory is the third major victory for a black Democrat in a Democratic gubernatorial primary field in 2018, following former NAACP president Ben Jealous in Maryland and state Rep. Stacey Abrams in Georgia.

Visitor Comments (0)
Be the first to post a comment!
Poor and disadvantaged people address needs before values. There may be more of a reason why Black People vote Democratic in the United States.
Double consciousness was coined by W. E. B. Du Bois in 1987 to describe an individual whose identity is divided into several facets.This was ever present in the movie Green Book.
Today is an opportune time to revisit the vision of Crazy Horse, the notable Sioux warrior to glean what you can. "Upon suffering beyond suffering; the Red Nation shall rise again and it shall be a blessing for a sick world. A world filled with broken promises, selfishness and separations. A world longing for light again. I see a time of seven generations when all the colors of mankind will gather under the sacred Tree of Life and the whole Earth will become one circle again. In that day there will be those among the Lakota who will carry knowledge and understanding of unity among all living things, and the young white ones will come to those of my people and ask for this wisdom. I salute the light within your eyes where the whole universe dwells. For when you are at that center within you and I am at that place within me, we shall be as one."
Back To Archives