Egbe Festival Debuts Special Afro Dance and Performance
February 1, 2019 • By Tiffani Knowles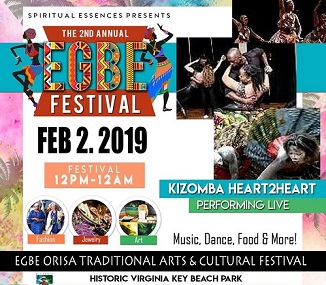 The second annual Egbe Festival offers festival-goers various performances, foods and vendors from throughout the African diaspora at the Historic Virginia Key Beach Park on the second day of African-American History Month.
On Saturday, February 2, 2019, the organization Spiritual Essences brings together participants like the Atlanta-based jewelry designer from the blockbuster film Black Panther and the African masquerade group, premiering for the first time in the U.S. to awaken the South Florida community to African contributions in the Americas.
At one time a "colored people" beach, Virginia Key Beach in South Miami-Dade is the perfect backdrop for Egbe's live drumming sessions, Afro-dancing, arts and crafts and seaside family fun.
Performers from South Florida's Kizomba Heart2Heart will debut their Angolan partner dance, kizomba, for the first time at this year's festival. It is a dance craze that his grown popular in the U.S. over the past decade due to a melding of Angolan semba dance and French Caribbean zouk music.
The event spans from noon to midnight at 4020 Virginia Beach Drive Miami, FL 33149. For more information, visit https://www.facebook.com/EgbeFest/

Visitor Comments (0)
Be the first to post a comment!
This shutdown is a tool to appease a narrow group of immigration hardliners who spit out unsupported facts about immigration to an ignorant audience with prejudiced itching ears but most illegals immigrate LEGALLY then overstay.
While the conservative right is all hot and bothered about incoming congresswomen Rahida Tliab and Alexandria Ocasio Cortez, did we forget about Donald Trump?
Seeing as we are up in arms about the "Surviving R. Kelly" docuseries, have we ever stopped to wonder how he is only one of many artists who has been influenced by a hyper-sexualized culture in music as well as who has influenced the culture, in kind?
Back To Archives