Preacher + Fashion Designer Equals Hatitude
November 14, 2012 • By Andre Barracks
"Wearing a hat versus not wearing a hat is the difference between looking adequate and looking your best." It was a sentiment that hat diva Martha Sliter lived by. So too does women's hat designer Karl Brown. Brown, a native of Jamaica, is the CEO of Khalil's Hatitude, a two and a half-year-old design company.

"I have always had an eye for fashion and designing, but then I realized my passion for hat designing," said Brown.

Born and raised in the cool hills of Irish Town in the parish of St. Andrew in Jamaica, Brown grew up in a Christian household. Brown's mother wore hats to church religiously, often times sporting a classic yet conservative style. He always felt hat designs could become more and more representative of the wearer.
His mother soon became his inspiration for both living out his passion for design and his faith in God. She instilled Godly principles and values into his life from a young age.

Presently a licensed minister of the gospel, his faith is fully intertwined with his work.
"It's very interesting being a Christian and so deeply involved in the world of fashion; but I know this is a natural gift the Lord has given me," he said. "I was not taught this so I must honor my gift and the giver of the gift as I do my work."
Brown views his design work and business as an extension of his ministry, both fulfilling his purpose on earth.
"It is amazing to see how transformed folk are by wearing the Khalil's Hatitude Line," said Brown. "I pray over my hats and I am convinced that people are healed by wearing them.... healed physically and even from self-esteem issues as the hats allow you to have an "attitude."
Brown believes more Christians should step forward and shine as the light of the world in whatever they do.
Brown is a firm believer that God is working through him because he has no formal training in hat design and says, "I can't even sketch to save my life so it is all in my head."
He claims he is divinely inspired to create the designs of each hat. He tells of nights where he cannot sleep due to designs flooding his mind, thus he rises to begin working on the hat.
According to Brown, there is no set methodology as the hats are handmade free style. Each hat has its own unique, custom design effect, whether it is a full-brimmed church hat, a feathered fascinator, a corsage saucer or a new style - coined by Brown - a "hatscinator."

A "hatscinator" is a fascinator (which is normally just a feathered accent to the head) but gives the illusion of a full hat.
Khalil's Hatitude steps outside of the box of traditional Jamaican fashion and has begun to resuscitate the hat culture in his homeland. The success of Khalil's Hatitude is evident through the saturation of the market in Jamaica. He is sought after for weddings, cocktail parties, church events, etc. It is amazing to see the native reaction to the designs. The fact that they are handmade and are created by a male makes it even more interesting.

"An appreciation for the Hatitude line always exist," said Brown.
Karl currently resides in Portmore in the parish of St. Catherine, but still conducts business internationally. Although a fairly new company, Khalil's Hatitude has garnered critical acclaim in Jamaica, the U.S. and several other Caribbean nations.

The company was invited to show at Guyana Fashion Week, Style Week and Fashion Block in Jamaica, and Caribbean Fashion Extravaganza in New York.

"My vision and mission for the company is to use the Khalil's Hatitude line and take hat fashion from simply domestic to another level," said Brown. "Designing with a fashion forward twist; out of church and on the runway and into the allies of the fashion industry."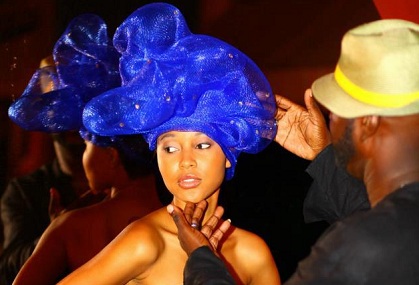 The international exposure of Khalil's Hatitude has allowed Brown to impact people on an even broader stage. He is able to share his faith and pray with models and designers while backstage at shows.

"I believe Khalil's Hatitude ties into my God-given purpose as I mentioned before as a Minister. I am able to reach a wide cross section of people as I travel internationally. I also am able to bring beauty to the body of Christ as the ladies are adorned in "Hatitude.""
Since ministry is a paramount focus for Karl, he enrolled in a Theological Seminary in Jamaica. He has taken a break in the past few months to further establish his business, but has plans to resume his studies via an online platform.
You may purchase a Khalil's Hatitude designer hat from our online store. Purchase today!


Visitor Comments (1)