Newark Mayor Lives on Food Stamps
December 4, 2012 • By Tiffani Knowles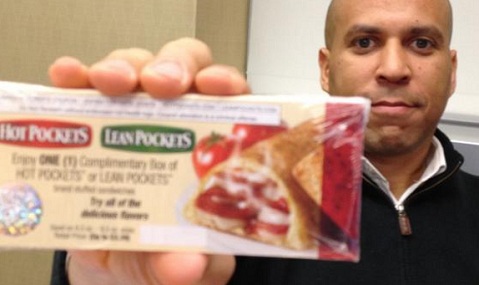 Mayor of Newark, New Jersey Cory Booker announced today that he will live on the budget of an average person on "food stamps" in his state.
"This morning, I will begin living on a food budget of $30 a week / $4.32 per day," said Booker, the social media-savvy mayor who was inspired to do this experiment because of a Twitter conversation he had.
Now until December 12, Booker will live only on a SNAP equivalent food budget.
SNAP is the Supplemental Nutrition Assistance Program, formerly known as food stamps, in the State of New Jersey.
It all started when a Twitter user tweeted Booker about her opinion that "nutrition is not the responsibility of the government," causing the mayor to reflect on the families and children in my community "who benefit from SNAP assistance and deserve deeper consideration."
"In my own quest to better understand the outcomes of SNAP assistance, I suggested to this specific Twitter user that we both live on a SNAP equivalent food budget for a week and document our experience," wrote Booker on his LinkedIn page.
Booker outlines his goals for the #SNAPChallenge as follows:
· to raise awareness and understanding of food insecurity
· to reduce the stigma of SNAP participation
· to elevate innovative local and national food justice initiatives and food policy and
· to amplify compassion for individuals and communities in need of assistance.
"We have much work to do at the local level to address a legacy of structural inequities in the American food system," said Booker. "As more and more working people and families - many holding down more than one job - face greater and greater challenges to juggle housing, medical, and transportation costs,meeting nutritional needs becomes a serious problem and a social justice issue."
Throughout this week, he will document his #SNAPChallenge experiences and reflections on LinkedIn, Twitter, Facebook and through video on #waywire.
He has already posted a receipt from his grocery shopping, which display items like beans, whole corn and a red delicious apple.

The list doesn't include any meat products because Booker is a vegetarian. He also doesn't drink alcohol or smoke cigarettes, but those products aren't covered under food stamps anyway.
"I read your receipt, and I think you are going to be hungry," @AmyLofton warned.
"U may be right," Booker tweeted back. "We will see."

Visitor Comments (0)
Be the first to post a comment!