Cyclist Lance Armstong's First TV Interview
January 15, 2013 • By Alicia Ramsay
After being banned for life from cycling as a result of doping charges, Lance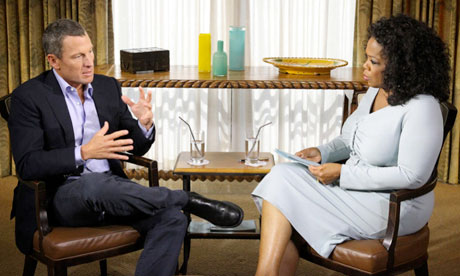 Armstrong's first televised interview will be broadcast on OWN January 17.
The US cyclist was stripped of his seven Tour de France titles, which he earned from 1999 to 2005, last October by the International Cycling Union.

"Armstrong will address the alleged doping scandal," OWN said in a press release on Tuesday, January 8. "Years of accusations of cheating, and charges of lying about the use of performance-enhancing drugs throughout his storied cycling career."
"Looking forward to this conversation with lancearmstrong," Winfrey tweeted. Armstrong confirmed by re-tweeting her post several minutes later.

The 41 year old, who has always denied charges of doping, stepped down as a board member of Livestrong last November. He founded the cancer-support charity in 1997.

If the doping charges weren't enough of a scandal, Armstrong was also accused of giving the United States Anti-Doping Agency $250,000 in 2004, which he denied.
Travis Tyga, USADA chief executive, was shocked by the Department of Justice's refusal to charge Armstrong and share the result of their probe with him.
"We have an obligation to clean athletes and the future of sports," Tygart said to reporters. "This was a fight for the soul of the sport."
Winfrey will interview Armstrong in his home in Austin, Texas. The show will air at 9pm EST on OWN and at Oprah.com.

Visitor Comments (0)
Be the first to post a comment!