Natural Hairnamix: Natural Hair Terminology
March 6, 2013 • By Rossette Allen
Natural hair is fast evolving from just an individual, personalized feat to a more community-oriented mission. The growing camaraderie amongst naturals has led to a vast amount of information, ideas, knowledge and expertise being shared. The forum is primarily facilitated via the internet by way of blogs, vlogs and YouTube channels. Natural hair communities also connect in a more physical way through meet up groups that convene periodically as a distinct group of people share this common interest.
The various natural hair forums that exist help to foster meaningful communication. Over time a unique language developed which consists of jargon that is most exclusively applicable to natural hair. Don't feel left out. Below is a bit of the terminology used by naturals accompanied by brief explanation of their meaning.
PRE-POO
A Pre-Poo is a moisturizing treatment which is applied to the hair before it is shampooed. It refers to a process which involves the application of oils, conditioners or both. A heat source is often used to aid with the penetration of whichever product is applied. A Pre-Poo is usually done with the aim of softening the hair, making it more manageable and easily detangled during the shampoo process. It acts as a barrier and protects your hair from the harshness of the shampoo, thus preventing it from being stripped of its natural oils. Poo is short for shampoo and pre is the prefix for the word before. The term was therefore coined to indicate that the process is executed before you shampoo.
TWA
TWA is short for Teeny Weeny Afro. The term, as implied is used exclusively to describe natural hair that is considerably short. The term "Teeny Weeny" in everyday layman's vernacular indicates something that is very small. Reference is usually made to natural hair as being a Teeny Weeny Afro if it is about an inch or two in length. For many, this is the hair length at the starting point of their natural hair journey as a result of "the big chop." Many naturals, however, for varied reasons ranging from damage to the need to do something drastically different, choose to cut off their already grown out natural hair into a TWA.

TWA has many other interpretations in different circles. In the natural hair community, however, the terminology is understood to mean very short, unprocessed hair.
CO WASH
A Co Wash is a hair cleansing alternative to using shampoo. It involves washing the hair with conditioner only. The term "Co" in Co Wash is short for conditioner and wash, as is in general terms, is the process of making something clean. The terminology Co Wash therefore, is the cleansing of hair using conditioners.
This hair care method is said to be gentler on natural hair because it does not expose the hair to the harsh chemicals used in many shampoos on the market.
Cleansing your hair with a conditioner introduces well needed moisture to your thirsty tresses making it easier to handle and preventing your hair from feeling stripped. Co Washes should be done with inexpensive conditioners as large volumes are needed to effectively cleanse the hair. There is also no need to be overwhelmingly concerned with using an all natural conditioner as it will not be sitting on your hair for an extended period of time while co washing.

BIG CHOP
Big Chop is referred to as the act of cutting off all your relaxed/chemically treated hair, leaving behind the natural, unprocessed portion. The natural hair journey usually commences with this often time frightening process. The term Big Chop, in my opinion, is used because of the magnitude of the decision. It is no coincidence that the word big is used as it is in fact a "big" or considerable amount of hair that is usually cut off. It is a big decision and it is nothing shy of a big deal. The word chop has a drastic ring to it and in general everyday terms is usually carried out with the use of an axe or a knife. Referring to the process of removing your hair as a chop indicates that the process is final, quick, drastic and significant. It usually marks the end of one era in your hair care journey and marks the beginning of another. Despite the initial fears that usually come with the contemplation to big chop, it usually ends with a feeling of pride and a sense of liberation.

PRODUCT JUNKIE

A junkie, as we know it, is someone with a compulsive habit or an obsessive dependence on something. It is no wonder the natural hair community uses the term product junkie to describe a person who is addicted to buying, collecting or trying hair care products. A product junkie cannot get enough, and feels the need to acquire almost every natural hair product ever made. The obsession with hoarding products often results in purchasing or acquiring products even if they are not suitable or compatible with your hair type.

The term product junkie is sometimes used to describe people who are obsessed with obtaining products in general, but in the natural hair community it is understood to mean those people who have that insatiable appetite for hair products.
TRANSITIONING

Transitioning is the process of slowly growing your relaxed or chemically treated hair out. It usually involves gradual, periodic trimming of the ends with a view to eventually cutting off all the processed hair. There is sometimes a little challenge with maintaining transitioning hair as it presents two different textures that don't always require the same caring or styling techniques. The challenge involves trying to maintain your coily-textured new growth as it tries to coexist with your chemically treated texture. Creativity is usually required to find suitable ways to style your hair while it goes through this phase.

The term transition means the process or period of changing from one state or condition to another. The term explains the change from one hair texture to another.
WASH N' GO
The term wash n' go is used to describe an alternative method for styling natural hair without having to set it in the usual twists, braids, rods etc. In a wash n' go, the hair is first shampooed or co washed and conditioned. A curl defining or curl enhancing product is typically applied to enhance the hair's natural curl pattern. It is somewhat ironic that the term wash n' go is used because, although a setting style is not done, it is certainly not as easy as the name implies. Great care has to be taken to ensure that your hair is not tangled. The styling product is then added to small sections of hair to ensure that it is evenly distributed. This is usually done with the fingers and can be time consuming but it yields a beautiful head of afro-like curls. This terminology is very popular in the natural hair circle and more common among ladies with a naturally curly or wavy texture.
There are many other terms used in the natural hair community and, as time progresses, new ones will develop. The aforementioned terms are just a few of the more popular ones around. To effectively communicate with other naturals on matters concerning natural hair, it is important to familiarize yourselves with these terms so as to grasp a better understanding of the unique language, making it more relatable.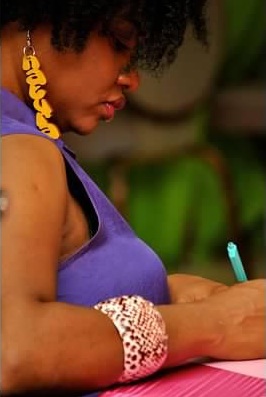 Candie's Natural Hairnamix was birthed a few months after Jamaican native Rossette "Candie" Allen began her natural hair journey in May 2010. She gears this column toward naturals, transitioning naturals, aspiring naturals and the naturally curious, sharing experiences, expertise and experiments while celebrating emancipation from chemical slavery.

Visitor Comments (0)
Be the first to post a comment!