2014 Academy Awards: Kudos to 12 Years A Slave
March 5, 2014 • By Tiffani Knowles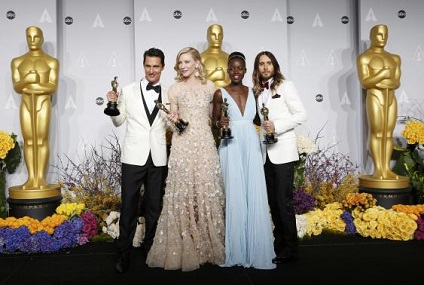 The 86th Annual Academy Awards weaved various masterpieces together to create a brilliant tapestry on Sunday, March 1.
Host Ellen DeGeneres brought a very organic brand of funny to the 86th Academy Awards with her spontaneous purchase of large pizzas for the front-row VIPs, then upping the ante by going row by row asking for donations toward the delivery man's tip. The A-list actors like Brad Pitt, Meryl Streep and Chiwetel Ejiofor who were solicited were obviously well trained in improvisation as they didn't skip a beat in donating twenties and hundreds to the cause of "Oscar hunger."
The best speeches of the night melded poetic eloquence with faith and passion.
Cate Blanchett personally congratulated each of her competitors in her Best Actress category, Lupita Nyong'o referenced how dreams can come true for the least of us.
Matthew McConaughey thanked the God of all creation for imbuing him with talent from on high.
The night was fraught with emotion and love for the craft. Here is the full list of this year's winners:
Best Picture
12 Years a Slave
Best Actor in a Leading Role
Matthew McConaughey (Dallas Buyers Club)
Best Actress in a Leading Role
Cate Blanchett (Blue Jasmine)
Best Actor in a Supporting Role
Jared Leto (Dallas Buyers Club)
Best Actress in a Supporting Role
Lupita Nyong'o (12 Years a Slave)
Best Animated Feature
Frozen (Chris Buck, Jennifer Lee, Peter Del Vecho)
Best Cinematography
Gravity (Emmanuel Lubezki)
Best Costume Design
The Great Gatsby (Catherine Martin)
Best Directing
Gravity (Alfonso Cuarón)
Best Documentary Feature
20 Feet from Stardom (Morgan Neville, Gil Friesen, Caitrin Rogers)
Best Documentary Short
The Lady in Number 6: Music Saved My Life (Malcolm Clarke, Nicholas Reed)
Best Film Editing
Gravity (Alfonso Cuarón, Mark Sanger)
Best Foreign Language Film
The Great Beauty (Italy)
Best Makeup and Hairstyling
Dallas Buyers Club (Adruitha Lee, Robin Mathews)
Best Original Score
Gravity (Steven Price)
Best Original Song
Let It Go - Frozen
Best Production Design
The Great Gatsby (Catherine Martin, Beverley Dunn)

Visitor Comments (1)