LA Clippers Owner Forced to Sell Over Racist Remarks
April 30, 2014 • By Tiffani Knowles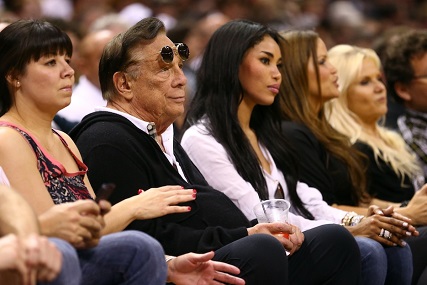 Los Angeles Clippers owner Donald Sterling is being forced to sell his basketball team over some racist remarks he made that became public a few days ago.
On Tuesday, the NBA's commissioner Adam Silver detailed Sterling's punishment of a lifetime ban and $2.5 million fine -- the "maximum amount" allowed per league guidelines -- at a press conference eight hours before Sterling's Clippers were to play in the fifth game of a tightly contested first-round playoff series with the Golden State Warriors.
TMZ posted audio featuring the inflammatory comments on April 25.
It was a 10-minute recording that TMZ said occurred during an April 9 conversation between Sterling and girlfriend V. Stiviano.
On the recording, Sterling and Stiviano argue about photos posted to Instagram in which she appears with African-Americans. He claims that he doesn't want the woman bringing any black people to games with her.
On Sunday, the sports website Deadspin posted five additional minutes of the recording.
Stiviano's lawyer's office said Sunday that she didn't release them but claimed that they are legitimate.
"I hope that every bigot in this country sees what happened to Mr. Sterling and recognizes that if he can fall, so can you," Sacramento Mayor Kevin Johnson, a former NBA All-Star who is leading the NBA players union's efforts on this matter.
The ban will prohibit Sterling from attending NBA games or practices, stepping foot inside any Clippers' facility, taking part in any business decisions, or having a role in any league activities.
Clippers coach Doc Rivers, an African-American, commended Silver as "fantastic" for making "a decision that really was the right one."
While Silver's decision to ban Sterling is unprecedented in professional basketball, something similar happened in the MLB. In the 1990s, Major League Baseball repeatedly suspended Cincinnati Reds owner Marge Schott over racist and other controversial comments, and she ultimately sold the franchise.
If Sterling does sell the team, he stands to make about $563 million dollars, according to Forbes magazine.
Sterling so far has been demonized by the public, pundits, past and present players.
Members of his own team, the Clippers, debated boycotting their playoff game Saturday with the Warriors, according to coach Rivers. They decided against it, instead opting to stage a silent protest by removing their warmup shirts bearing team logos to reveal red T-shirts worn inside out, with the logos hidden.
Some fans don't believe that was enough.
"By choosing to continue to play and/or coach until Sterling is officially forced to sell the team, they're still generating revenue for him," said New York activist ConfidenceLives. "This is another reason that they should have boycotted immediately and continue to boycott until the team is officially no longer owned by Sterling."
Many corporations, however, have decided to not have anything more to do with the team.
Over a dozen companies -- including State Farm, Virgin America, CarMax and Red Bull -- halted their sponsorships with the Clippers over the remarks, CNN Money reported.
NBA great Magic Johnson, who was mentioned in the TMZ recording, claimed he'd never attend another Clippers game if Sterling remained the owner.
Sterling: "In your lousy f**ing Instagrams, you don't have to have yourself with -- walking with black people," the man says.

Stiviano: "If it's white people, it's OK?" she responds. "If it was Larry Bird, would it make a difference?"

Sterling: "I've known (Magic Johnson) well, and he should be admired. ... I'm just saying that it's too bad you can't admire him privately," the man on the recording says. "Admire him, bring him here, feed him, f**k him, but don't put (Magic) on an Instagram for the world to have to see so they have to call me. And don't bring him to my games."
Johnson is now a successful businessman and part owner of baseball's Los Angeles Dodgers. He is now rumored to be interested in buying the team.
Floyd Mayweather, Rick Ross, Oscar De La Hoya and Sean Combs have all also expressed interest.
Entertainment mogul Oprah announced Wednesday that she is in discussions with businessman David Geffen and Oracle Corporation CEO Larry Ellison to make a bid for the team.
Geffen told ESPN that Winfrey does not want to be involved in the day-to-day operations.
Oprah is not interested in running the team. She thinks it would be a great thing for an important black American to own [another] franchise. The team deserves a better group of owners who want to win. Larry would sooner die than fail. I would sooner die than fail. Larry's a sportsman. We've talked about this for a long time. Between the three of us, we have a good shot.
Even though over 70 percent of NBA players are Black and over 40 percent of NBA coaches are Black, only 2 percent of the league's majority owners are Black. Former NBA player Michael Jordan is the only majority owner of a team in the NBA. He purchased the Charlotte Bobcats in 2010.

Visitor Comments (0)
Be the first to post a comment!