Maya Angelou Passes at Age 86
May 28, 2014 ē By Tiffani Knowles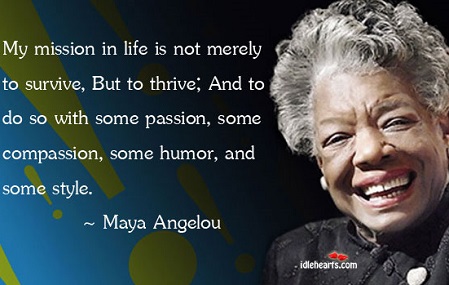 Dr. Maya Angelou died today in her Winston-Salem, NC home before 8:00 a.m. EST., according to her son Guy Johnson.
She suffered from heart problems and was extremely frail. She was 86.
Her family is extremely grateful that her ascension was not belabored by a loss of acuity or comprehension. She lived a life as a teacher, activist, artist and human being. She was a warrior for equality, tolerance and peace. The family is extremely appreciative of the time we had with her and we know that she is looking down upon us with love.
Born Marguerite Ann Johnson, Angelou was an American author and poet who published seven autobiographies, three books of essays, and several books of poetry. She created her stage during her career as a dancer; it came from pieces of her life -- her brotherís nickname for her was Maya and her first husbandís last name was Angelos.
She is also credited as an actor, writer, director and producer of a long list of plays, movies, and television shows. She received dozens of awards and over thirty honorary doctoral degrees. As a result, she insisted that people call her Dr. Angelou.
Angelou is best known for her autobiography, I Know Why the Caged Bird Sings (1969), depicting her traumatic childhood, rape, and becoming a teenage mother.

She became a poet and writer after a series of occupations as a young adult, including fry cook, prostitute, night-club dancer and performer, cast-member of the opera Porgy and Bess, coordinator for the Southern Christian Leadership Conference, and journalist in Egypt and Ghana during the days of decolonization. Although a high school dropout, since 1982, she held a teaching position at Wake Forest University in Winston-Salem, North Carolina, where she held the first lifetime Reynolds Professorship of American Studies.

In 1993, Angelou recited her poem "On the Pulse of Morning" at President Bill Clinton's inauguration, the first poet to make an inaugural recitation since Robert Frost at John F. Kennedy's inauguration in 1961.
She was a mentor to Oprah Winfrey, whom she befriended when Winfrey was still a local television reporter, and often appeared on her friendís talk show.

Visitor Comments (0)
Be the first to post a comment!