Lecrae Sues Katy Perry for Song Rip-Off
July 9, 2014 • By Tiffani Knowles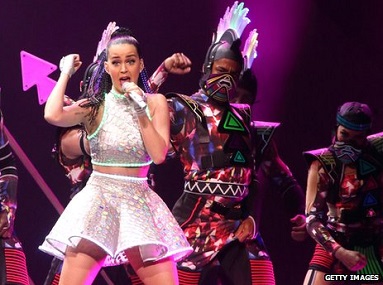 Grammy-winning Christian rapper Lecrae alongside several others are suing pop singer Katy Perry and Capitol Records for a strikingly similar tinny beat used in her ever-popular, Juicy J-assisted 2013 single "Dark Horse." They claim she not only stole their song, but also tarnished it because of the song and accompanying video's association with "black magic."

The hip-hop musician's song "Joyful Noise" was released six years ago and included the collaboration of Lecrae Moore, Grammy-nominated Christian rapper Flame (born Marcus Gray), Chike Ojukwu, and Emanuel Lambert. The suit was filed in St. Louis, Missouri federal court on July 1, claiming for copyright infringement, the St. Louis Post-Dispatch first reported.

"And by any measure, the devoutly religious message of 'Joyful Noise' has been irreparably tarnished by its association with the witchcraft, paganism, black magic, and Illuminati imagery evoked by the same music in 'Dark Horse,'" the suit reads, per Courthouse News. "Indeed, the music video of 'Dark Horse' generated widespread accusations of blasphemy and an online petition signed by more than 60,000 demanding removal of an offensive religious image from the video."
Last February, an "Allah" pendant had to be removed after petitioners protested it as a "portrayal of blasphemy."

The Christian artists are suing for damages from Perry, guest artist Juicy J, Capitol Records and songwriters Dr Luke and Max Martin and are demanding Perry be forced to stop using their song in any way, shape or form.
"Joyful Noise" was released on the 2008 album "Our World: Redeemed," which received a Grammy nomination for Best Rock or Rap Gospel Album.

Dark Horse topped the US Billboard chart for several weeks in January.
Court documents show they also want an injunction and profits gained from the unauthorized use of their track because Perry performed Dark Horse at sold-out concerts throughout the U.S. and sold millions of copies.

Additionally, more than 440 million people have watched the video on YouTube since February this year.

Flame said the track's similarities were brought to his attention by his DJ, Cho'zyn Boy. The DJ compiled an audio comparison of the two songs, published by Rapzilla, after Twitter fans heard the similarities, too.
The musicians claims Perry and her collaborators "never sought or obtained permission" to use Joyful Noise for "creating, reproducing, recording, distributing, selling, or publicly performing" Dark Horse.

While Perry may be singing about black magic in 2014, she actually released her own Christian Rock album under her birth name Kate Hudson in 2001 before she was the "kissed-a-girl-and-liked-it" teen phenom.
Compare the songs yourself. Comment and tell us what your thoughts are!

Visitor Comments (0)
Be the first to post a comment!