Kinky T-Shirt Line Launches for Hair Enthusiasts
August 22, 2014 • By Tiffani Knowles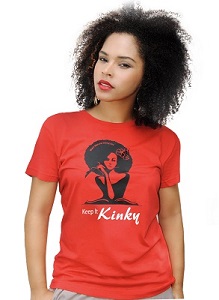 Where does sexual innuendo end and a fashion forward hairstyle begin? With BlackNaturalHairstyles.org's new T-shirt line cleverly dubbed: Keep It Kinky.
The 5-month-old natural hair website Black Natural Hairstyles is partnering with new, urban faith-based clothing line to create a unique design that caters to the woman who embraces her chemical-free, curly or coily hair and is not afraid to say it.
To wit, the line's double entendre of a name has served to excite both women and men alike.
"We're humbled to be a part of a brand that empowers women to be natural and love themselves," said Maurice Davis, CEO of One Throne Apparel, who works alongside his wife Sarah, to produce a myriad of originally designed apparel geared to share uplifting and inspirational messages to the masses.
For women rocking afros, two-strand twists, braids, cornrows, frohawks – hairstyles that haven't yet found their way to the mainstream - this new T-shirt's simple but provocative statement serves as an instant conversation starter with people of all walks of life.
Each T-shirt is priced at $19.99 and is available in black and white, pink and green and black and red. To purchase, log onto www.blacknaturalhairstyles.org.
Photo Credit: One Throne Apparel

Visitor Comments (0)
Be the first to post a comment!