Authors Tobi Atte and Andre Harrison Mend Relationships this Season
December 24, 2014 • By Tiffani Knowles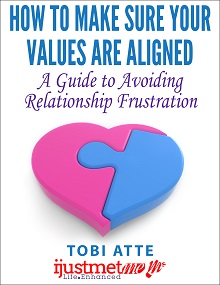 Before this holiday season comes to a close, here are two books that serve as stockingstuffers, must-buys, must-reads and New Year's resolution gifts to yourself all rolled into one!
Radio hosts, motivational speakers and authors Tobi Atte and Andre Harrison hope to make your New Year a lot more fruitful as you explore the quality of the relationships in your life.
For those who have seen themselves in too many scenes from Single Ladies or The Player's Club, download Tobi Atte's new e-book: How to Make Sure Your Values are Aligned: A Guide to Avoiding Relationship Frustration. With this free 50-page download, you will learn how to have meaningful conversations about values with your relationship interest, understand the four critical questions you should answer as you observe that special someone and you'll know how to work through differences in values.
Then, for the single mother or youth leader who hopes to train young men how to become Godly men. Get your copy of From a Fatherless Father to His Sons. Now until December 28, author Andre Harrison is conducting a "buy and review" contest on Amazon.com. He will be giving away a brand new Samsung Galaxy Tablet to one lucky reviewer. It will be on sale for $9.99. Your review must be posted on the book's Amazon page before December 31, 2014. The contest winner will be announced on January 1, 2015.



This promotion is solely sponsored by the author Andre D. Harrison, Harrison Media and Publications and is not in conjunction with Samsung or Amazon.com.

Visitor Comments (0)
Be the first to post a comment!