Natural Hairnamix: 3 Strongest Reasons for Going Natural – a method to your madness!
February 4, 2015 • By Rossette Allen
The rate at which women of color have been transitioning to natural is at an all-time high. Some look at her decision to go natural as nothing short of sheer madness because not everyone will be receptive to the idea or even entertain it for that that matter. Some think it's hideous, untidy, unprofessional, and unruly - to put it mildly and to name a few. Still, the mounting number of converting naturals spans a wide cross section of people with varying backgrounds, beliefs and motivating factors. The fact that so many women are now embracing going natural is simply admirable but the motives behind each decision often determines the longevity and meaningfulness of the journey.
Going natural, which means opting to wear your hair in its naturally curly, kinky or wavy texture as opposed to its usually chemically altered, heat-straightened texture, will require much more than just an attraction to a popular trend to keep the passion alive. Trends come and trends go, so if going natural doesn't have a deep-rooted meaning to you, then it may very well be short lived.
My recent encounter with an ex-natural whose natural hair journey was abbreviated revealed that her decision to go natural in the first place was based solely on how attractive other girls were and how popular sporting natural textures had become.
Unlike most other trends such as fashion and beauty, embracing a hair trend, especially one that involves basically starting over from scratch, takes much more commitment than that of just adding a new pair of shoes or that new leather coat to your collection. While there is nothing wrong with participating in a cool trend, it is important to know that if that is the only driving force that contributed to your going natural, chances are it may very well not last. There has to be an innate desire and passion.
Now, we won't all become motivated by the same factors as our curlfriend down the street. Just blindly deciding to transition to natural without an informed conviction makes the journey that much more difficult. There will be those dreaded days, those days when you will be tried and tested; you'll get discouraged and feel lost and alone.
Mental readiness is very vital in order to overcome these feelings. There will be bad hair days when everything that you try just won't work for you, and your strands may appear dry and lifeless. If you are not in love with being natural for reasons that go beyond the physical, reversion to the straightener may be very appealing during that moment of frustration.
Additionally, it is almost guaranteed that that at some point or another along the natural hair journey, you will come under pressure from external sources which will plant seeds of doubt in your mind by way of hurling criticisms, snide remarks, dropping hints or simply give you the side eye. Your absolute passion about your natural hair will act as a barrier of defense against all the darts that will come at you.
Here are 3 strong reasons for going natural -- a meaningful methods to the madness.
1. Self-Acceptance
The struggle to find oneself and come to grips with who we truly are is not one to be taken lightly. Sadly, many women struggle with issues of negative self-image, self-esteem and overall acceptance of physical appearance in its entirety. Negative stereotypes have plagued the minds of many women, especially women of color.
The notion that straighter and lighter are better has embedded an inferiority complex so deep into the mind that women will opt to alter their physical appearance so much so that it sometimes become a physical hazard to their health. Hair straightening with the use of strong chemicals and the use of skin lightening creams which damage the skin are two of the more common ways in which women of color modify their physical appearance.
Being comfortable in your own skin and hair is evidence that one is satisfied with who they are and is comfortable and accepting of their total being -- inside and out. Many women who decide to go natural, do so on account of their willingness to embrace their authentic selves, letting go of all misconceptions about beauty and how it is represented. Women who experience this epiphany are usually very passionate about their kinks, curls or coils and are not easily influenced in any way to alter their hair because of another person's opinion.
2. Healthy lifestyle
More and more people are choosing to enjoy a healthier lifestyle. Not only are they paying attention to what is placed inside their body, but also the type of products that they use on the outside of their body. There has been an evident shift from using artificial foods and products to using more natural, organic items. For those who are serious about a lifestyle shift, choosing to return to their natural hair texture is often among the changes made in order to embrace this new lifestyle.
Staying away from the harsh chemicals that are used to formulate hair relaxers is believed to reap long term health benefits. Scientific research has suggested that respiratory problems can develop as a result of using relaxers. The Potassium Hydroxide also called Potassium "Lye" is a very strong chemical that if inhaled, can cause coughing, sneezing and breathing complications. Exposure over extended periods could possibly cause damage to the lungs.
Dermatologists have also determined that the chemicals in relaxer can actually seep underneath the skin and enter into the bloodstream.
The pores of the skin are a proven entrance into most internal body parts and this poses a serious health risk that many women are no longer willing to take. For this reason a growing number of them have made a conscious decision to get off the "creamy crack" and instead wear their hair in its natural, chemical -free state. This reality is usually sufficient enough to prevent any wavering in opinion about remaining natural.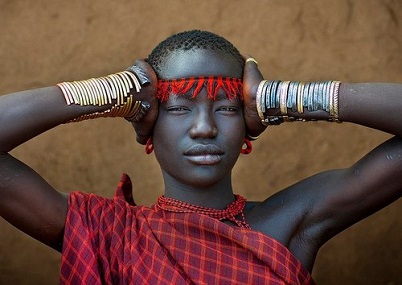 3. Identifying with Ancestral Roots
There is also a segment of the natural hair population who made their decision to revert their hair to its natural state as a show of support for their ancestors from the mother land, Africa. One popular way of identifying with those of African descent is through fashion. An authentic African outfit will cause you to feel in tune with your heritage and a beautiful head of natural hair is the missing puzzle piece to complete the look.
Those who feel strongly about their history and preserving it generally feel a sense of pride about celebrating their coils, curls or kinks. The afro is a symbol of their African heritage and what it represents is therefore usually ingrained into their souls. Wearing an afro is often seen as a distinguishable physical expression of black pride and, very often, wearing hair in its natural state conveys a message of liberation. Individuals who embrace natural hair with this mindset are typically in it for the long haul and are very unlikely to revert.
The initial reason for going natural can have some bearing on whether or not the journey lasts. The more passionate you are about it,is the less likely you will be to depart from that which you believe in. If the reason for your transition was based on the fact that it was just a cool trend that looked nice or because you thought it was more convenient than wearing a perm, the likelihood that boredom or frustration may set in, is quite high.
There must be some method to the madness, one that nothing or no one will be able to convince you of changing. Sticking to this choice to become natural will not always be easy, but the benefits to be had from doing so will always be worth it.
As any change in behavior would have it, the change must be reinforced in order for it to stick. Just as if you decided to quit smoking, you'd remain rooted in your healthy choice, if you had friends around to encourage you, celebrate you and enjoy the change with you.
On February 21, International Keep it Kinky Day celebrates women who have made the decision to go natural, hopefully, for one of the three aforementioned reasons. Meetups are being held at placed like Bedford Hall in Brooklyn, New York, at OisiThai in Miami, Florida and at Ginger Bay Café in Hollywood, Florida for the purposes of reinforcing self-acceptance, healthy choices and identification with one's roots.
If you've not attended a meetup before, GO! With all the inspiration and tips you receive from fellow naturals, it's almost a guarantee you'll never go back to the creamy crack!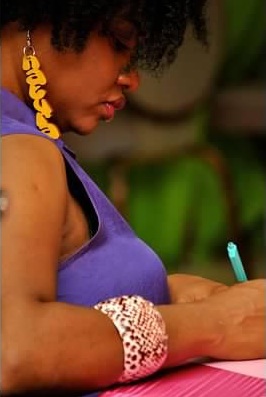 Candie's Natural Hairnamix was birthed a few months after Jamaican native Rossette "Candie" Allen began her natural hair journey in May 2010. She gears this column toward naturals, transitioning naturals, aspiring naturals and the naturally curious, sharing experiences, expertise and experiments while celebrating emancipation from chemical slavery.

Visitor Comments (1)