Keep it Kinky Events Held Worldwide Feb. 21
February 18, 2015 • By Tiffani Knowles
For little girls in Overtown, one of Miami's most depressed communities, their hair is not a mark of beauty, but a mark of disgrace.
"They claim to hate their hair; this is why they are the first stop here in Miami on International Keep it Kinky Day," said Yannick Brackenridge-Jackson, co-founder of BlackNaturalHairstyles.org, the website that originated International Keep it Kinky Day.
On February 21, Miami joins six other cities globally in celebrating a woman's right and desire to wear her hair in its most natural state – free of heat and chemical-based straighteners and free of weave extensions.
The Overtown non-profit organization Touching Miami with Love, 711 NW 6th Avenue, will host an open forum facilitated by Brackenridge-Jackson at 9:30 a.m.
"This is a delightful opportunity for our young ladies and parents here at Touching Miami with Love," said Director of Programs Trina Harris. "We are constantly striving to uplift self-confidence and increase self-awareness in our community, so positive information and discussions on natural black hairstyles are definitely needed in our community."
For African-American girls, the issue of hair is a sensitive one because Black hair is thick, curly and tangles easily; this results in the practice of permanent chemical relaxing to achieve a straighter, more manageable texture for girls as young as six.
"I remember how I would get teased in elementary school for my hair being so poofy. That was why I was so relieved when I finally got a perm," said Brackenridge-Jackson. "So, I know how these girls feel."
Brackenridge-Jackson transitioned back to her natural texture in 2010 and - as of this year - sports a textured afro.
"I would never have worn my hair like this to work before...never!" she said. "But I figure, if I'm going to be natural, I have to love my hair in its most natural state."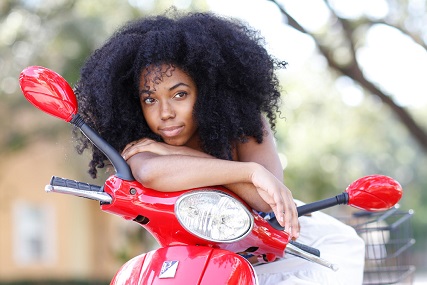 Another member of the movement is Keshia Lynton, a K-3 teacher at Aktiv Learning Academy in Miami. She had real apprehensions about unveiling her natural look to her co-workers last year, but claimed when she finally did it, she got rave reviews.
"Random guys of all ethnicities stop me and say 'I love your hair.' The parents of my students even stop to compliment me," said Lynton.
This was one of the reasons that photographer David Muir chose to feature natural beauty in his new Portraitic Perspectives art exhibit that opens on International Keep it Kinky Day or #IKIKDay.
"I celebrate natural. I am dead set against anything that is unnatural," said Muir. "I am a firm believer in celebrating who we are and how we are."
Portraitic Perspectives opens at Sailboat Bend Artist Lofts, in Ft. Lauderdale and features the work of Muir, Cathleen Dean, Sean "IYA" Henry, Philip Michael Curtis, Karl Jerry Craig, Don Parchment and Ivy McDaniel.
The opening reception will feature live performances by poet Susan "Dr. Sue" Davis and reggae vocalist Kristine Alicia.
As a follow-up to International Keep it Kinky Day, the gallery will also host a panel discussion on Sunday called "The Commerce of Natural Born Beauty" to explore how Black women in the hair/beauty industry are thriving.
"For women to embrace their natural features, it's about re-educating them. Both the men and women of today have bought into a culture of falseness. It's going to take a process for them to un-learn what society has fed them," said Muir.
Brooklyn, NY business owner Calvin Clark also agrees that natural beauty is attractive to men.
"White men 9 times out of 10 go for sisters wearing natural hair. On TV you don't say that, but it's true," said Clark, the owner of Bedford Hall, the restaurant that hosting Brooklyn's #IKIKDay meet up on Saturday. "The sisters that I know who wear their natural hair get a lot of attention. That's because it requires confidence and confidence is always sexy."
Clark is disappointed that more women don't feel empowered enough to embrace their natural hair as an extension and celebration of their beauty, but he believes that International Keep it Kinky Day is a step in the right direction.
As a global study from Dove confirmed, girls are seven times more likely to love their curly hair if people around them do.
"People in your circle can indirectly influence you," said Lynton. "I just used to see my girlfriends who are doing it. Never did they say that I should go natural. But, I loved how they looked and how they embraced it. It caused me to embrace it, too."
To learn more about International Keep it Kinky Day in other cities, visit www.blacknaturalhairstyles.org/IKIK.html.

Visitor Comments (0)
Be the first to post a comment!