Get Hard film Satirizes Real Prison Stereotype
March 19, 2015 • By Tiffani Knowles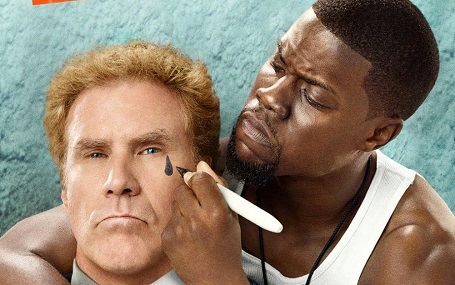 The new Warner Bros. comedic film Get Hard starring Kevin Hart and Will Ferrell aims to satirize a widely-believed stereotype that Black men in America are well-acquainted with prison life, but where did the stereotype originate?
In the movie, Ferrell plays James King, a wealthy hedge-fund manager who is sentenced to a decade in San Quentin. Afraid of the terror that awaits him in prison, he turns to his one black acquaintance — a car-wash worker named Darnell Lewis (Hart) — to toughen him up. The hilarity of it all stems from the fact that Darnell couldn't be anything further from a thug. However, the $30,000 that King offers Darnell is more than enough for him to play the stereotype.
While the terror that Ferrell's character is trying his best to prepare for seems far-fetched, incidents of prison riot and rape are all enrooted in truth.
"If you've never experienced being behind the wall, you don't know. There are high levels of violence that occur," said Brian Miller, coordinator of Black Men's Empowerment Cooperative at LaGuardia Community College at the City University of New York. "Minority men don't snitch so most of the violence that occurs is not even measured. You are constantly under threat."
In fact, much of what individuals experience in prison can bring about post-traumatic stress disorder.
"It's like coming back from war," said Dr. Joni Schwartz, associate professor at LaGuardia Community College of the City University of New York. "Some of them need counseling to talk about the pain that they went through."
Even though Schwartz claims that in Black community counseling is not widely accepted, it is an important tool to stave off the highest incidence of recidivism – re-offense rates – within the Black male population.
In 2003, Blacks, who account for only 12 percent of the general U.S. prison population, comprised 44 percent of all prisoners with sentences greater than one year. Nationally, among the top factors that influence whether someone will return to prison is if that person is a Black male.
Miller knows how easy it is to return to a life of crime because he works with the formerly incarcerated in New York and he, Schwartz and two other students at the college co-wrote a chapter titled "Returning to School after Incarceration: Policy, Prisoners and the Classroom" in the book Swimming Upstream: Black Males in Adult Education.
"If you were dealing crack, the reality is you went from making $69,000 per month to now maybe $14 -24,000 per year," said Brian Miller, coordinator of Black Men's Empowerment Cooperative at LaGuardia Community College at the City University of New York. "That fall from grace has to be accounted for because the reality is that you cannot tap that previous funding source again."
Miller himself was once involved in the criminal justice system – selling drugs at age 12 led to an attempted murder charge, then incarceration.
After his release in 2001, he had to overcome the hurdles of society's new technology, family strife, the stigma of a felony charge and post-traumatic stress.
He enrolled at CUNY-LaGuardia and is now completing his degree through the CUNY BA program.
"If you don't have the means to go to education, then vanity is going to come to play. The only two viable options is education or entrepreneurship," said Miller.
Non-profit research organization the Rand Corporation says inmates who participate in correctional education programs like GED classes, vocational training and college courses have 43 percent lower odds of returning to prison than those who do not.

Visitor Comments (0)
Be the first to post a comment!