Jay Z Launches Artist-Owned Streaming Service
March 31, 2015 • By Tiffani Knowles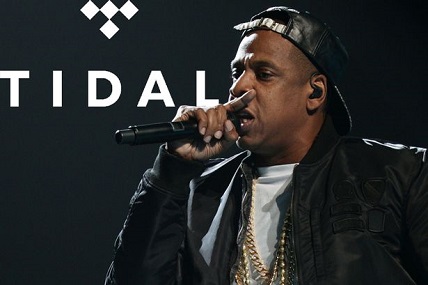 Jay Z banded together with the biggest artists in music on Monday, March 30 to announce the first-ever artist-owned streaming service – TIDAL.com
The rap music mogul purchased the subscription streaming service Aspiro from its Swedish owners for $56 million.
"We come to you with one voice in unity," artist Alicia Keys said during the live event. "The first ever artist owned global music and entertainment platform!"
The event brought together artists like Kanye West, Rihanna and Madonna who are all fed up with music piracy and the profit third-party owned websites make when they stream artists' music.
Jay Z's Roc Nation tweeted Saturday about a "special announcement" and stakeholder artists turned their Twitter avatars blue to bring attention to the streaming service.
Akin to streaming music providers such as Spotify that offer both premium and free, ad-based options, TIDAL will strictly offer a subscription-based music service offering high quality music and sound.
Spotify has 60 million users around the world, 15 million of whom pay; Apple is expected to introduce a subscription streaming service this year. Last fall, Aspiro said it had 512,000 paying users.
This is a platform that's owned by artists," Jay Z said in an interview to the New York Times. "We are treating these people that really care about the music with the utmost respect."
The artist compensation from digital has been a source of contention dating back to the Mp3 wars of 1999.
It was one of the reasons that popular country artist Taylor Swift pulled her music from Spotify in November.
Swift's catalog (with the exception of her latest smash album "1989") has been streaming on TIDAL since Tuesday morning.
The most notable part of Jay Z's strategy is that a majority of the company will be owned by artists, demonstrating solidarity among musicians who seldom have direct control over how their work is distributed and consumed as well as bringing financial benefits for those involved.
At the news conference in New York, Jay Z stood alongside more than a dozen musicians identified as Tidal's owners, including Nicki Minaj, Jack White, Alicia Keys, the country singer Jason Aldean, the French dance duo Daft Punk, members of Arcade Fire, and Beyoncé, Jay Z's wife.
Tidal, which makes millions of songs and thousands of high-definition videos available in 31 countries, will have two subscription tiers defined by audio quality: $10 a month for a compressed format (the standard on most digital outlets) and $20 for CD-quality streams.
"The challenge is to get everyone to respect music again, to recognize its value," said Jay Z, whose real name is Shawn Carter. "Water is free. Music is $6 but no one wants to pay for music. You should drink free water from the tap — it's a beautiful thing. And if you want to hear the most beautiful song, then support the artist."
Vania Schlogel, a Tidal executive, said that a majority of the shares in the service would be set aside for artists. She and Jay Z declined to reveal specifics about the equity deals. But one executive involved in the negotiations, who spoke on the condition of anonymity because the deals were private, said that participating artists were being granted shares in exchange for their good-faith efforts to supply exclusive content — a sign, perhaps, of the confidence that the artists and their managers have in Jay Z's ability to get things done.

Visitor Comments (0)
Be the first to post a comment!