Edgy South African Comedian Trevor Noah - New Host of The Daily Show
April 1, 2015 • By Tiffani Knowles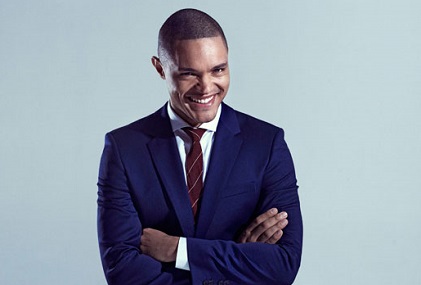 Comedy Central announced that South African comedian would be the new host of "The Daily Show," succeeding Jon Stewart after he steps down later this year, but some have chosen to criticize Comedy Central's pick because of Noah's history of biting humor about race.
The cable network's selection of Noah comes after Stewart, 52, revealed on Feb. 10 that he was leaving "The Daily Show" after 16 years of hosting a program that reports news and current events with a satirical twist.
In December, Trevor Noah, 31, made his debut as an on-air contributor on the Emmy and Peabody Award-winning show.
"I never thought I'd be more afraid of police in America than in South Africa," said Noah, who is bi-racial. "It kind of makes me a little nostalgic for the old days, back home."
Now, after only three appearances on the show, Noah will make his home permanently in the United States at the helm of The Daily Show.
Born to a black South African mother and a white European father, Noah has hosted numerous television shows including South Africa's music, television and film awards, the South African Comedy Festival and two seasons of his own late night talk show, "Tonight with Trevor Noah."
He made his U.S. television debut in 2012 on "The Tonight Show with Jay Leno" and has also appeared on Late Show with David Letterman; he was the first South African stand-up comedian to appear on either late night show.
Within hours of the network's announcement, audience members combed through his past work and social media presence for more clues about Noah; they uncovered several posts on his Twitter account that they claim offensive to women, Jews and other groups.
Here are some posts that have been called off-color:
Jamie Weinstein, a senior editor of The Daily Caller, wrote that the comments may cause concern because "many young people don't watch 'The Daily Show' just to laugh — they watch the show to get their news. The show shapes perceptions."
Comedy Central stood by Noah in a statement on March 31.
"Like many comedians, Trevor Noah pushes boundaries; he is provocative and spares no one, himself included…. to judge him or his comedy based on a handful of jokes is unfair. Trevor is a talented comedian with a bright future at Comedy Central," the network said in its statement.
That same day, Noah responded on Twitter: "To reduce my views to a handful of jokes that didn't land is not a true reflection of my character, nor my evolution as a comedian."
Judge for yourself. Check out Trevor Noah's set at LIVE at The Apollo in London, England:

Visitor Comments (0)
Be the first to post a comment!