Miss Jamaica Florida Crowns Dancer Allison Johnson
July 1, 2015 • By Tiffani Knowles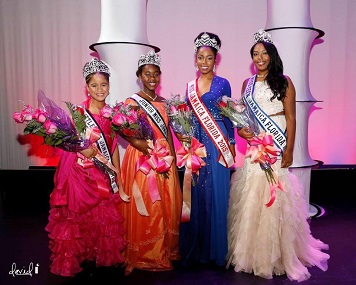 The 26 Annual Miss Jamaica-Florida pageant, produced by charitable, non-profit organization Partners for Youth Foundation crowned winners within four pageant categories at the Coral Springs Arts Center on Sunday, June 30, 2015, including multi-talented artist Allison Johnson.
"Our aim is to remind these young girls of their Jamaican parentage to keep the culture alive. The emphasis is not on beauty," said pageant organizer June Minto.
She claims that with the four categories – Little Miss, Junior Miss, Miss Teen and Miss – they hope to build girls' self esteem and business acumen, as they all have to garner their own sponsors to enter the pageant.
The pageant consisted of an opening number featuring all the contestants, a creative expression category themed "She is Royal: A Tribute to Women in power Around the World" and a formal wear competition where each contestant is judged on poise, presence and a thoughtful response to a question about their platform.
Pageant judges included Chef Irie Spice, sports broadcaster Donovan Campbell, attorney Georgia DN Robinson, educator Chana-Kay Pommels.
Johnson, who is now Miss Jamaica Florida, says she is eager to begin her work as an ambassador for creative arts therapy for distressed women in Jamaica.
"As Jamaican people, we have strong pride, we sweep things under the rug, hold our heads up high while inside we are crumbling," said Johnson. "We can use arts for therapy because it's not a foreign concept. We are already an artistically inclined people."
Johnson, who is a dancer, photographer and videographer, knows all too well how the creative arts can be used to express one's inner turmoil and spur one on toward healing.
Her mother died of colon cancer when she was 14 and her father – now disabled in a convalescent home in Jamaica -battled drug abuse for most of her life. Apart from dance and the visual image, she says that she journals her experiences as an outlet.
"For young ladies, if you feel orphaned, if you have this sense of disassociation from the world, or life is so muddled right now, you don't know how to deal with that, I want you to know that there is help," said Johnson.
The queens in other categories are Little Miss Abigail Blake , Junior Miss Ashante Linsday and Miss Teen Joanna Chung.

Visitor Comments (0)
Be the first to post a comment!