Child Track Star poised to Break New Record
July 15, 2015 • By Tiffani Knowles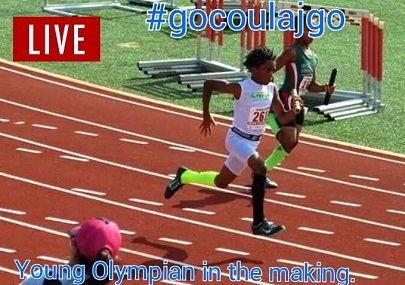 Ten-year-old track star Arkansas resident Coulaj Eans will compete along with his two younger siblings for a three-sibling sweep of the 2015 USATF National Jr. Olympics in Jacksonville, FL on July 27.
Coulaj and his sister Fhenix, 7, and Winter, 6, are members of the Louis Moss Striders Track Club in Pine Bluff, Arkansas and is in his fifth year of competition. At the age of six, Coulaj qualified to compete in the 2011 USATF National Jr. Olympics in Wichita, Kansas where he was ranked in the top 40 in the country.
In 2012, he qualified for the 2012 USATF National Jr. Olympics in Baltimore, MD. He made it to the semifinal round for two events, placing top 20 in the nation, and placed second in the nation for the Sub-Bantam Boys division of long jump. He broke a national record with a leap of 4.10 meters (13 ft. 5 in.).
A year later, Coulaj faced tougher competition but finished in the top 20 in the 100-meter and the 400-meter dash, while failing to make the finals in the long jump.
In 2014, Coulaj traveled to Bloomington, Indiana to compete at the 2014 USATF Youth Outdoor Track and Field Championship at Indiana University. He came away nationally ranked second in the 100-meter dash and the 400-meter dash; he placed first in the long jump with the longest jump at 15 ft. 11 in. Then, in Humble, Texas in the 2014 USATF National Jr. Olympics shone in his long jump competition with a jump of 4.83 meters (15 ft. 10 in.), earning the place of 3rd in the nation.
"We've made a pact to always present a united front for our son in terms of support. We believe that involved parents equate to successful children," said Coulaj's father Marchello Eans.
And Coulaj is not alone. Both Fhenix and Winter run the 4x400-meter relay and compete in the long jump in their division. The two of them competed against one another in the long jump earlier this month and Winter won. They both jumped an average of 10 feet in the long jump competition.
"We're currently challenging the USA Track and Field Association to allow Winter to compete in the Jr. Olympics. She may have to wait until she's seven to go further than last week's competition even though she qualified," said Marchello.
Eans says that his father Louis Holmes and his wife Shannaine, a native of Jamaica, coaches the Eans children and several other child athletes. Holmes ran track for Arkansas AM&N University in the 1970s. Shannaine ran for Auburn University for two years and later transferred to Minnesota.
"Shannaine was just about to enter the Olympic trials in 2004 to run for Jamaica, but she found out she was pregnant with Coulaj," said Marchello.
Coulaj says, despite all of his achievements, he tries to remain humble because he knows that losing is a part of the sport.
"I know I can be beaten. So when I do win, I just thank God for giving me the strength to do so. Also I congratulate my opponents on pushing me to my greatest," he said. "The Jr. Olympics is not easy. You will have to work to get your win. I expect to do my best and I think my best will get me where I want, which is within the top three."
Besides his track accolades, Coulaj is a straight-A student who was recently nominated as a Junior National Young Leadership Conference attendee in Washington D.C. He was also nominated for the Duke University Talented Identification Program.
For more information or to donate to Coulaj's campaign, visit www.theyoungphenom.com

Visitor Comments (0)
Be the first to post a comment!