County Clerk Kim Davis Returns to Work Monday
September 10, 2015 • By Tiffani Knowles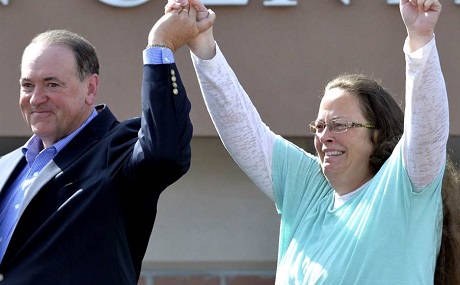 After U.S. District Judge David Bunning ordered the release Tuesday of Kentucky clerk Kim Davis who was jailed for refusing to issue a same-sex marriage license, Davis went home to be with her family and made the decision to return to work in Rowan County on Monday, September 14.
"I am deeply moved by all those who prayed for me. All I can say is that I am amazed and very grateful," she said in a statement issued through her lawyers. "I am enjoying spending time with my husband, my family, and my three dogs. I have also been spending time reading boxes of letters expressing support and prayers from people around the country."
The Rowan County clerk was jailed last Thursday, September 3 for refusing to comply with a federal judge's order to issue marriage licenses to same-sex couples. During her six days in the Carter County Detention Center, her deputy clerks did comply with the federal order.
Bunning released Davis from jail on the condition that she does not interfere with her deputies issuing the licenses.
The American Civil Liberties Union, which represents four couples who sued Davis, said its goal has been achieved.
"This case was brought to ensure that all residents of Rowan County, gay and straight, could obtain marriage licenses," William Sharp, legal director for the ACLU of Kentucky, said in a news release.
Deputy clerk Brian Mason, noting that the office would issue licenses to anyone seeking them, said 10 had been issued since last Friday, seven of them to same-sex couples, the Associated Press reports.
Davis previously said she would not authorize her office to issue marriage licenses to same-sex couples if her name remains on the certificates; furthermore, her attorneys say that the licenses issued in her absence are not valid without her authorization.
Davis still refuses to authorize the forms, despite her detention, and is seeking an exemption from such a duty because it violates her religion.
"She loves God, she loves people, she loves her work, and she will not betray any of those three," said attorney Mat Staver. "She'll do her job good. She'll serve the people ... and she'll also be loyal to God, and she's not going to violate her conscience."
Asked by a reporter whether her stay in jail was worth it, Davis smiled and nodded.

Visitor Comments (0)
Be the first to post a comment!