Capitalism meets Communism in Cuba Through Arts and Business
October 8, 2015 • By Tiffani Knowles
While many are unsure of how the United States and Cuba will work toward new market expansion in the next year, arts activist and business owner Erica Bowen and other panelists featured at the Go Caribbean! Business and Investment Expo on Oct. 1 in New York City said there are ample opportunities for business in the communist country.
Panelists and an audience of business owners from Jamaica, Trinidad, Guyana, The United States and elsewhere convened at the Bank of New York Mellon just a few miles from where Presidents Barack Obama and Raul Castro met on Sept. 29 – the second time in 6 months after announcing that their countries would restore ties – to discuss Cuban investment opportunities.
The countries reopening embassies in Havana and Washington in July was a sign to the world that new business is on the horizon. While the U.S. still maintains its 53-year-old trade embargo in Cuba, Commerce Secretary Penny Pritzker flew to Cuba this week in hopes of increasing trade, and perhaps to complete a civil aviation agreement that would allow direct commercial flights to Cuba from the United States.
Obama told the United Nations General Assembly on Sept. 28 that he is "confident that our Congress will inevitably lift an embargo that should not be in place anymore."
When it finally happens, what does the full restoration of relations in Cuba mean for United States business owners and venture capitalists?
Expansion of Travel to Cuba
Americans can provide business training for private Cuban businesses and small farmers.
Americans can provide support for the growth of Cuba's nascent private sector.
Expanded sales and exports of certain goods and services from the U.S. to Cuba
American citizens can import additional goods from Cuba.
Go Caribbean! panelists like Andrea Ewart, Esq. of DevelopTradeLaw and Erica Bowen of AMP Cuba shared how much of a game-changer working with the Cuban people could be for one's business, even within the context of a communist economy.
"I look at it as a more yogic approach to capitalism that the only way I can move forward is to bring people with me as opposed to a more greedy capitalism where I take, I take, I take and it doesn't matter if you have or if you're able to prosper at the same time that I prosper," said Bowen. "Cuba is so based on family. As I grow, I have to work with other people I can inspire them to create their own businesses and for them to grow, as well."
Bowen, a Black woman who has lived in both Cuba and the U.S., says that the Cuban economy doesn't out rightly allow for racial division as it does in the U.S.
"The level playing field in Cuba is that no matter who you are, if there's a paper outage, there's no paper. If there's a bread shortage, there's no bread. It doesn't matter what color you are or how much money you have in Cuba, everyone is going through that same experience," she said.
But in an op ed piece for The Miami Herald published last March called "Blacks in Cuba are poised to make gains," Black Cuban Ricardo Gonzalez – the chief of staff for Miami-Dade Commissioner Xavier Suarez – wrote that racism has always divided the country between the haves and the have nots.
"Truth be told, throughout its history, Cuba has never been kind to its darker citizens, regardless of who has been in power or his political ideology," wrote Gonzalez.

Both Gonzalez and Bowen agree, though, that when Cubans receive foreign remittances or help from family and friends abroad, it can elevate their lifestyle so that they can afford to do things like open a business.

In fact, as the Director of AMP Cuba – a Los Angeles-based organization - Bowen has taken more than 15 groups to Havana, inviting curious travelers to experience Cuba through the lens of art, culture and wellness while promoting the private enterprise in Cuba.
"In Cuba, we only work with small businesses. When people are lodged, they are lodged at bed and breakfasts, we eat organic food from Cuban locals, we work with Cuban artists who have created their own companies outside of the government. The regular person has that ability to have their own business," she said.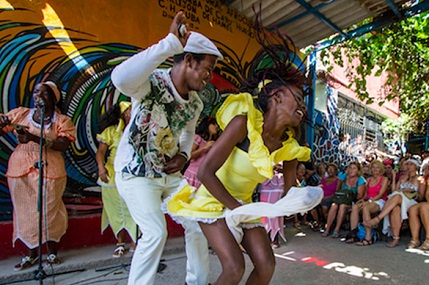 Case in point is a place located in Centro Havana called Callejon de Hamel, she said.
"It's poverty stricken. It's the ghetto. What one artist did was he created these various murals throughout a certain part of the area and then once a week he would have this rumba," said Bowen.
Now, it's a place to which tourists flock to eat and dance and it has received television coverage on The Travel Channel and the Conan O'Brien show.
"That's the kind of thinking. We may not have the Upper West side, but we have our culture and now can we create something where people want to come to us," she said.
AMP Cuba is slated to take its next delegation of interested travelers to Cuba on November 22.

Visitor Comments (0)
Be the first to post a comment!