Just Thinking: U.S. Final Five - The Epitome of Human Potential
August 17, 2016 • By V. Knowles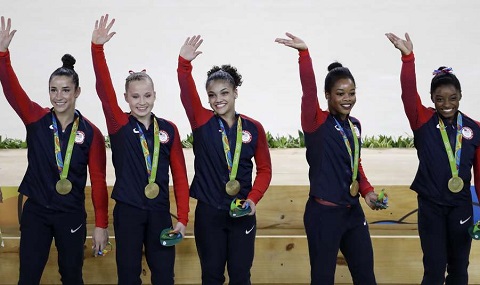 If we are looking for an archetypal representation of racial unity and human potential within America, look no further than the U.S. Olympics Women Gymnastics team – now being named the greatest women's gymnastics teams of all time.
Simone Biles, Aly Raisman, Laurie Hernandez, Gabby Douglas and Madison Kocian – have dubbed themselves "The Final Five" after their win last week. The 8.209 point victory by the United States (185.238) over Russia (175.279) is the largest margin of victory at a major gymnastics meet under the current scoring system. They also became the first American women's team to win back-to-back gold medals at the Olympics.
The perky Madison Kocian with the Czeck/ Slovak surname is the daughter of Thomas, a man of African American/ Japanese ancestry.
The intense, business-like Aly Raisman is Jewish.
The demure, introverted Gabby Douglas is the daughter of a single mom with four kids who had to subsist for a while on welfare and food stamps.
The intense Simone Biles is the biological daughter of a drug-addicted, alcoholic mother. The state was forced to abrogate parental rights and place Simone and her sibling in foster care to ensure their survival. Subsequently, they were rescued by her grandparents who legally became her mom and dad.
The effervescent Laurie Hernandez is of Puerto Rican heritage.
They were all selected for the U.S. Olympic team and are managed by a Romanian immigrant named Marta Karolyi.
After they had ascended to the top of the gymnastics world by winning the gold medal, Laurie had this to say, "We're always building each other up and making sure that we're cheering for each other and shouting 'C'mon, you got it, confidence,'" Hernandez told reporters. "Before we even got out on the floor Marta told us: 'Just do what you've been doing in the gym, you guys have been training so hard, all the repetitions are going to pay off.' We did just that."
Two poignant teaching moments occurred during the competition for the all-around individual gold medal.
While moving from one rotation to the other, Simone and Aly vying for the same goal, grasped each other's hands, silently seeming to whisper, "Best wishes, I've got your back, we're in this together, no matter how it turns out."
At the end of the competition, while Simone, the one-time neglected little black girl from Houston, was basking in the glory of winning gold in the contest, she paused, turn around and beckoned to Aly, the Jew from Amherst, Mass., winner of the silver medal, to come and share the moment in the spotlight.
She instinctively realized, "I would not be here if you were not there pushing me higher and higher."
Let us examine how in this election season we can learn from the young female Olympians.
In U.S. politics today, people are earnestly displaying their utter dislike and disdain for his or her opponent. With full vigor, they express all the reasons why the other person is beyond redemption, totally useless--indeed a threat and danger to America.
Firmly established on one side of the fence, they cannot see or detect any good or worthwhile purpose in the guy or gal on the opposite side. That's what they and many people are saying folks.
If God felt that way about us---where , oh where ,would we be?
So hopelessly entrenched in our recalcitrant demeanor, we deem it impossible to work together, let alone live together.
So cries like "build the wall", "keep them out", "deport them", "lock her up" abound and can be heard on every corner. But is that the kind of nation we aspire to become? Is that the way to success?
Can we accomplish anything with that mindset? Can we grasp the gold medal of life with that kind of attitude? We are not immortal and omnipotent, my friends.
People need each other and no matter where you are in life, one day you will find that out.
Within each human heart are inscribed these soul stirring words:
"And God blessed them. And God said to them, be fruitful and multiply and fill the earth and subdue it, and have dominion over the fish of the sea and over the birds of the heaven and over every living thing that moves on the earth."
Do not be put off by the shape, texture or color of the exterior of the package.
Resident in each of us is the divine potential to elevate the entire human race. We are more alike, my friends, than we are unalike. Together everyone can achieve more. Unity brings strength and the sweet taste of victory, division causes weakness and the bitterness of defeat.
We are called the United States of America for a reason.
We need look no further than the Civil War to remind us of the horrors of brother against brother and neighbor against neighbor.There are some who would take us back to those dark days, conveniently forgetting that the good old days were not so good for a whole lot of people.
Negroes were considered three fourths of a human being, children were working long hours in coal mines and women, disposable sex objects, were not allowed to vote nor considered for certain occupations.
Jewish people were regarded as blood sucking, Christ killers, and Southern Italians and Eastern Europeans lacked skill, initiative and intelligence. Puerto Ricans, I have heard it said, are all inveterate gang members, thieves and welfare cheats.
It has been truly said that man looketh on the outside, but God looks on the heart. Man conducts himself and reacts to what he sees, thinks and perceives. It always shortchanges you and him or her to judge a man or woman by what he looks like or where he comes from.
You will never know where that person can take you or do for you if you would only dare to accept him or her as a normal human being with the God endowed potential to be a good neighbor. Victory or life could lie in the hands of people from the most unexpected places.
With that as a backdrop, I would like to introduce you to the protagonists in two heart-warming stories. They give us reason to hope that things are not as bleak as the politicians have painted them.
The Judge with the kidney of gold.
Derek Mosley, 45, was diagnosed two years ago with renal failure. The municipal court judge in Milwaukee, Wisconsin knew that the disease could be deadly.
"Kidney disease runs in my family, my father passed away from it and my [grandmother] passed away from it," he told ABC News.
Mosley said one of the first people he told that he needed a new kidney was fellow municipal court judge, Joann Eiring. The pair have been best friends for 14 years and when Mosley said he needed a kidney Eiring didn't hesitate to offer to get tested.
"She's my best friend and we're close and we do lunch a lot," said Mosley. "She was one of the first people I broke it to besides my wife and family."
Mosley said he was skeptical since he and Eiring are different races and different heights.
"Literally, we couldn't be more opposite of each other," said Mosley.
After Eiring was tested she came back a perfect match for her best friend and agreed to give him her kidney.
It is said a picture is worth a thousand words.
The next time you are tempted to belittle, disparage or demean someone who looks different from you.
Look at this picture and think about that.
The stranger could be that indispensable friend you have yet to meet and know.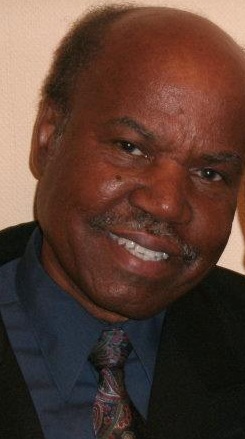 V. Knowles is a husband, father and prison minister with an interest in penning issues that serve to uplift mankind. He melds his love for Classic literature, The Bible and pop culture - as sordid as it may be - into highly relatable columns of truth, faith and justice. Hence the name: Just Thinking. If he's not buried in a book or penning his next column, you may find him pinned to his sectional watching a good old Country and Western flick.

Visitor Comments (0)
Be the first to post a comment!