How Immigrants Have Made My Life Easier: Tech, Biz, Food, etc.
January 31, 2017 • By Tiffani Knowles
Some of the biggest U.S. based technology companies like Google, Airbnb and Netflix are meeting today – courtesy of software firm Github - to discuss filing an amicus brief in support of a lawsuit challenging U.S. President Donald Trump's order restricting immigration from seven Muslim-majority countries, said a spokesperson for a company organizing the gathering.
Amicus, or friend of the court, briefs are filed by parties who are not litigants in a case but want to offer arguments to the judge.
And what arguments they would be! According to data from the Office of Foreign Labor Certification, U.S.-based tech companies rack up H-1B visa workers (foreign employees with technical expertise) like they're drafting for the Cavaliers.
These companies have been notorious for filing for thousands of computer programmers, software engineers and analysts in the course of a year. So, suffice it to say, uh yeah, Trump's executive order could definitely hurt their cash flow, let alone their investment.
Thus, Silicon Valley has become the clearest corporate opponent to the ban announced last week because the industry depends on talent from around the world, including a few of the countries on Trump's restricted list like Iran and Syria.
Here's where we are:
Google: Founder Sergey Brin, the son of Russian refugees, was photographed taking part in protests at the San Francisco international airport. Google's Indian-born chief executive Sundar Pichai has criticized Mr. Trump's immigration order. Sidenote: Salar Kamangar, Iranian-born senior executive at Google, is also the former CEO of Google's YouTube brand.
Microsoft: CEO Satya Nadella used a LinkedIn post on Jan. 28 to say that 76 company employees were citizens of the seven countries in question and held US work visas, and thus were directly affected by the order. "We believe in the importance of protecting legitimate and law-abiding refugees whose very lives may be at stake in immigration proceedings," said Microsoft's president and chief legal officer Brad Smith.
Netflix: Chief Executive Reed Hastings has said that Trump's actions were "so un-American it pains us all. Worse, these actions will make America less safe (through hatred and loss of allies) rather than more safe."
Apple: Chief executive Tim Cook sent a letter to employees saying Mr. Trump's policy was "not a policy we support" and pledged to support affected employees. Side note: Steve Job's biological parents were Syrian refugees.
Tesla: Elon Musk, the South African-born founder of both Tesla and SpaceX, took to Twitter to say that the "blanket entry ban on citizens from certain primarily Muslim countries is not the best way to address the country's challenges."
Airbnb: Founder and chief executive Brian Chesky said that it will provide free housing to anyone not allowed entrance to the United States.
Etsy: Founder Chad Dickerson tweeted "we are a nation of immigrants, and are stronger for it."
Uber: Chief executive Travis Kalanick has said that the company will compensate drivers from the seven countries who cannot return to the U.S. "This ban will impact many innocent people - an issue that I will raise this coming Friday when I go to Washington for President Trump's first business advisory group meeting," Kalanick said.
Facebook: Founder Mark Zuckerberg posted a lengthy message to remind Trump that if there had been a ban on refugees two decades ago his wife, Priscilla, would not have been allowed to enter the country. Sidenote: Zuckerberg pays foreign workers handsomely every year to ensure that they remain the top social media company in the world.
Periscope: Periscope is the live video startup company thatTwitter acquired in 2015. It updated its loading screen on Jan. 30 with a small bit of text at the bottom that reads: "Proudly made in America by immigrants." Omid Kordestani is the Iranian-born tech genius who has been the Executive Chairman at Twitter since October 2015.
Since the order was announced, many of these companies and others have been donating millions to organizations such as the American Civil Liberties Union and those for refugee rights. Let's be real for a moment. These tech companies are selfish. They have special interests aligned with immigrants and they're not about to lose out due to some executive order. Hey, but aren't we all just as selfish. I mean, really. Immigrants truly work their behinds off (especially the undocumented ones) to do the work that either we can't do, don't want to do or don't have the time to do.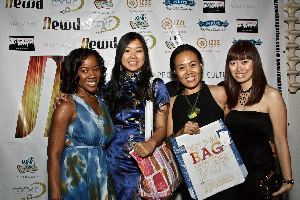 For me, I've realized that amidst the fray, this whole thing is really quite personal for me. I mean, yes, both my parents are immigrants. One's Bahamian and one's Jamaican. And, yes, this ideology I have is selfish, too. However, besides the two immigrants who gave me life, since as far back as I can remember, immigrants have made my cushy little life in coastal America really great. From my babysitters to my teachers to my mechanics to my Dunkin Donuts cashierd, they all made my world go 'round.
I mean, what would I do if I couldn't go on to my shiny new Macbook Pro and search Google for the keyword "bridal shower banners" and then land on Etsy that ships my purchase just in time for my friend's bridal shower? What would I do if I couldn't use my favorite word processing program from Microsoft to write and edit my and my students' articles?
What if I couldn't hail an Uber when I'm late and it's "brick" cold in Brooklyn or couldn't research the perfect little nook on AirBnb for my next vacation to Venice Beach? I would just be bored senseless if I couldn't keep abreast of the lives of my friends in Botswana on Facebook or check out the live broadcast of my fave preacher John Eckhardt on Periscope or discover the newest Netflix series Chewing Gum originated by Michaela Boakye – a British friend I met in NYC.
But, that's not as personal as this –
For years, I've run a media outlet that has depended upon the efficient and create forces of foreign workers. I'm talking about 90 percent dependent on foreign labor. Either they were permanent residents or interns attending school in the U.S. or study abroad students or children of recent immigrants, these people know who they are, how valuable they are and were and what they did to make NEWD what it is today.
To China, Guyana, India, Australia, Haiti, Nigeria, Jamaica, Nicaragua, Malawi, Trinidad and the rest, I say thank you for lending me your tired and your poor, your huddled masses yearning to breathe free.
And, to the honorable mentions, mis mujeres Latinas quien limpien mi oficina from Plenti Office Services here in Ft. Lauderdale, the most amazing graphic designer/web developer I've ever worked with in life, Robert Gibson of Square 1 Media Group, and my trusty Indian crew for genius online marketing services, you make me smile.
TIffani Knowles is the managing editor and founder of NEWD Magazine. Her hope is to become as "newd" as possible on a daily by embracing truth, authenticity and socio-spiritual awareness. She is bi-vocational as she is the owner of two businesses and a professor of Communication at Barry University in Miami, Florida. She is also the co-author of HOLA America: Guts, Grit, Grind and Further Traits in the Successful American Immigrant.

Visitor Comments (0)
Be the first to post a comment!