Hidden Figures: 3 Big Lessons for Womanhood
June 28, 2017 • By Tiffani Knowles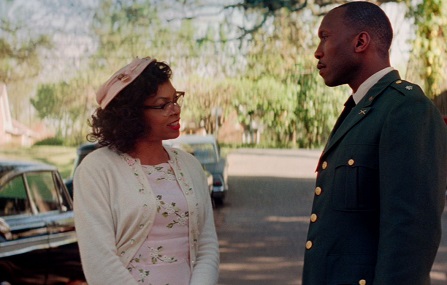 For me, the movie Hidden Figures was the best picture of the year – regardless of zero Oscar wins.
I just remember leaving the theater inspired and not because of the breakthroughs that these black women made in the field of aerospace science.
Not because of the incredible lengths that Mary Jackson underwent to become the first Black woman to obtain a degree in engineering.
Not because of the ingenuity it took Dorothy Vaughan to create jobs for herself and her female "computers" when she realized the "machine" would soon make them obsolete.
Not because of the persistence Katherine Johnson displayed in seeing mathematical equations that didn't currently exist.
I got something far greater and deeper from the film. I observed the black family in the 1960s. This family was nuclear. This family was whole. This family was dignified.
What's more, I observed black women pursuing careers in a demanding industry. They weren't hoochies, they weren't rachet, they weren't gold-diggers and, most of all, they weren't the man-hating, Miss independent type either.
These women were a breath of fresh air for myself, a woman of the new millennium. I don't have to be afraid to be smart, sassy and saved yet loving, forgiving and tender with a man.
After flying men to the moon and back, these phenomenal women earned even more of my respect when they:
1) Were admired by the black man for their efforts instead of being scoffed at or envied
2) Actually nurtured their relationship with the black man instead of emasculating him like women do in 2017
3) Were married or being courted while establishing their careers instead of being single or single moms for the duration of their careers. (Explanation outlined here in an NPR report)
When Katherine opened herself up to the love of a military man (Mahershala Ali), I gushed inside because that's secretly what I want. When I saw Mary (Janelle Monáe) sass-mouth her husband in one scene yet shower him with kisses in the next, I laughed aloud because that's the true nature of a woman. When I saw Dorothy (Octavia Spencer) dancing with her man at the end of a hard day's work in a pre-civil rights government workplace like NASA, I longed for just that. To retreat into the arms of a man who loves me despite the rejection I may receive from the cold, cruel world. To find solace in the embrace of this man. To love, to respect, to cherish this man, knowing that he makes my demanding job and all of its inequities worth it. To have him is to have peace.
I was floored by these women and the depth of their womanhood. They weren't just shattering the glass ceiling or racial stereotypes. They were building marriages, homes, families, communities.
It is exactly the same thing that author King Kevin Dorival discusses in his new book 7 Queens, Kings Desire.
In his King Builder chapter, he asks women if they are king-builders or back-breakers?
Personally, I want to be the former — the woman who elevates the king of my home, makes him feel loved, desired, cared for, respected, at peace.
"It is crucial that women build men up so that we can protect them, provide for them, as we build strong marriages, which build strong families, which build strong communities, which build stronger nations. This is what the world needs, right now," said Kevin Dorival, when I interviewed him on this topic.
My hope for my future is just that and I'll do all I can to live into it.
In the meantime, I'm still in the school of love, observing, praying, connecting, fasting, being cognizant of my own faults. I'm trying to get ready for this man.
It was the very reason that I enrolled in the pre-marital course Ready for Forever created by life coach Tobi Atte. I just don't want to be caught off guard when that magical moment is finally here. Listen, the worst thing imaginable is to give back a multi-thousand dollar ring, call off a multi-thousand dollar wedding or spend multi-thousands on divorce court.
Nah, I'd rather study first then love later…
TIffani Knowles is the managing editor and founder of NEWD Magazine. Her hope is to become as "newd" as possible on a daily by embracing truth, authenticity and socio-spiritual awareness. She is bi-vocational as she is the owner of two businesses and a professor of Communication at Barry University in Miami, Florida. She is also the co-author of HOLA America: Guts, Grit, Grind and Further Traits in the Successful American Immigrant.

Visitor Comments (0)
Be the first to post a comment!