Just Thinking: 50 Years after MLK and the Dream's Still Deferred
April 17, 2018 • By V. Knowles
"And so often as you set out to build the temple of peace you are left lonesome. You are left discouraged. You are left bewildered. Well, that is the story of life. And the thing that makes me happy is that I can hear a voice crying through the vista of time, saying, 'It may not come today or it may not come tomorrow, but it is well that it is within thine heart. It's well that you are trying.' You may not see it. The dream may not be fulfilled, but it's just good that you have a desire to bring it into reality. It's well that it's in thine heart."
-Rev. Dr. Martin Luther King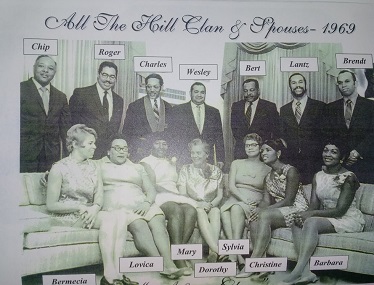 Fifty years after the assassination of Martin Luther King Jr, I sat down to have a conversation with Brendt Hill, a man who identifies as a Black American (although many misidentify him daily) and has lived through the pre and post-civil rights era in America.
According to Brendt, for many of us today, it is still a dream deferred, a hope still born, a goal still languishing in the hearts of many, who are still yearning to enter that elusive Promised Land.
Brendt has a unique perspective on life, not afforded to many. He moves easily and effortlessly between the black and white world. He is a fair-skinned black man whose mother and grandmother were white. He has sisters who could pass for white. Some of his family members have white spouses.
His family has been on the frontlines of activism for years. His father, Rev. Charles A Hill, was Pastor of the historic Hartford Ave Memorial church. Paul Robeson, Martin Luther King Jr, WEB Dubois were houseguests in their home. His brother Charles S. Hill was one of the original Tuskegee airman.
The Kefauver committee investigated them in the 1950s for conducting un-American activities; they were suspected, due to their association with individuals named above, as being communist sympathizers.
Yet, he is not bitter. Eminently practical, he reminded me that if you would only do business with people who look like you or people you like, you would never accomplish anything.

He knows how to play the game, knowing sometimes that you let along to get along. He advises me that you cannot allow old wounds to fester, reminding me of Mandela and Tutu of South Africa--you must forgive the bitter past if you desire to see a better future.
In short, he is not one prone to hyperbole or wild eyed opinions and accusations, never emotionally charged up, except when it comes to discussing the black experience in America.
He accuses me of being logical and reasonable, a Republican in matters of race because I was not born in this country and have no idea of what it was like growing up as a black man in America. If I did, he says, I would not be so objective and would look at things a lot differently.
And so, to gain insight and more understanding of the mindset of the Black American, I picked his brain to recall some of the events in his life.
The Journey
He wistfully remembers the day his father collapsed on the bathroom floor, blood coming out of his mouth. The stomach ulcers, a result of the stress of fighting civil rights battles for years, had become cancerous and would eventually take his life.
He recalls, a note of annoyance in his voice, the day his father had to purchase a new house in a suburb of Detroit and had to pay an extra $1,000 to a white man to secure the sale. To appreciate how onerous this "black surcharge" was, the actual purchase price of the home was $6,000.
On a trip to a lake home in Northern Michigan, purchased through another white intermediary, thankfully at no additional cost, his father warned him to cover the light in the car with his hat. His mother and sister, apparently white, dared not be seen in a car with two ni***rs.
You do not forget incidents like these very easily. They leave a permanent scar on your emotional psyche, and you are always careful to keep yourself under subjection so you do not respond to the slightest perceived slight in a violent manner.
Brendt was appalled at Joe Wilson of South Carolina for interrupting Barack Obama's congressional address with, "you lie, Mr. President."
"Imagine," he said, "Someone interrupting a speech by Donald Trump. This is another example of the stark difference between white and black people.
At the Baptist church in the community where we live, he and his wife just walked out in the middle of the service. The Pastor had apparently complained about the kneeling NFL players being wrong in their demonstrations, much to his chagrin. The same pastor had neglected to mention the atrocity in South Carolina where the gunman had killed the black parishioners. When confronted by Brendt about the oversight, the replay was, "I did not think about it."
How convenient, Brendt thought, the gunman being white and the majority of the kneeling football players being black?
As of this writing, he has not returned to that church.
He asked me the other day as he asked one of his white friends, "when was the last time you heard about an unarmed white man being shot by a policeman?"
For the life of me, I did not have a ready answer.
I do recognize, however, that when the white man is the perpetrator in a violent act, we find ways to humanize him, tossing out phrases like, "mentally challenged," "a difficult childhood," "an unwitting victim of circumstances" -- all in an effort to soften our hearts towards him. On the other hand, the black victim is a thug, engaged in wrong doing, an idiot acting stupidly who deserved to be shot, to maintain the idea that black people are inherently prone to violence, criminal behavior, and so it is unsurprising and normal if bad things happen to them.
Fifty years have passed since the death of the man who proclaimed "free at last, thank God Almighty, we are free at last," and we are still fighting to be considered a full normal human being, for better or worse.

Visitor Comments (15)