Just Thinking: The Real New York
April 2, 2019 • By V. Knowles
Let's be frank. You and I both know that they are full of it, whatever "it" you or I purport "it" to be.
They are arrogant, haughty, obnoxious and rude and are not hesitant to let you and the world know that they have what it takes to take what you have got.
You want to talk about conspiracy. It's as if alien forces have invaded the five boroughs with a mind control device that makes the whole country, like so many lemmings, fall in line and march in lock step with whatever New York decides.
It is simply called the city, of which someone once said, a place so nice they had to name it twice.
They determine what is news and tell us what to think. They are the home of ABC, NBC, CBS and Fox News.
They tell us what to read, how and what to write. They are home to the New York Times and Wall Street Journal. The Pulitzer prize for journalism was birthed there.
They tell us how to play games as the Heisman trophy for the top college athlete is awarded there and tourists flock to the home of the preeminent sports arena, Madison Square Garden.
They tell us what to wear, what is stylish, offering us New York fashion Week, Anna Wintour, Vogue and Cosmopolitan.
They tell us how, when and where to invest our precious dollars. NYSE, AMEX, Nasdaq and Wall Street are all headquartered there. Their power of persuasion is so strong that Bernie Madoff was able to convince a host of financially savvy people all over the world to invest in his company, which proved to be nothing more than a massive Ponzi scheme.
They tell us why and how we should worship the Almighty. Famous theologian Timothy Keller wrote his great Reason for God book on the Upper West Side and the Brooklyn Tabernacle Choir composed Grammy-winning, soul-stirring songs out of a building in downtown Brooklyn.
They tell us what to eat. Celebrity chef Anthony Bourdain traveled the world recommending dishes to us yet began his journeys always from JFK.
They tell us what and how to sing as Beyonce, Jay -Z and Cardi B call this city home.
The songwriter "New York, if you can make it there, you can make it anywhere." It is disturbing and absolutely depressing to me how often that tune turns out be true.
They control the entertainment world with every serious actor anxious to display his or her talents on Broadway proudly referred to as "the great white way."
Even horses do not escape their stranglehold on the nation's psyche. To be considered great, a legend, to enter the pantheon of truly magnificent racing horses, you must win the triple crown. The final leg of this feat is staged in, you guessed it, Elmont Park, NY, a race called the Belmont Stakes.
Because of our fear of them, their oversized personalities, their abnormal sway over the nation's consciousness, whether you are a carnival barker, con man, empty suit or "all hat with no cattle," once you mention, "I am from New York," people pay attention to you.
They convinced us that electing a political novice, a thrice married man, who has declared bankrupcty four times, bragged about grabbing women by the p***y ,told us that he would build a wall and Mexico would pay for it, would be a great idea because he would make America great again. Not only that, he so charmed, preachers John Hagee, Robert Jeffress of Texas and Franklin Graham of North Carolina that they advised us that God wanted him to be president.
Talk about chutzpah. This guy is so confident that he has bragged "I can shoot somebody on Fifth avenue and will not lose any votes."
What a spell they have cast over the rest of us. It is grossly unfair. Their hold over us extends from the cradle to the grave.
I thought about all of this as I noticed the uproar concerning a 29-year-old first time Congresswoman, an erstwhile bartender and waitress subsisting on tips in Bronx N.Y.
Talk about the New York aura and influence. Twitter cannot get enough of her. She is on every talk show, trending everyday on the internet and right wing pundits are obsessed with her, despising her obvious natural connection with everyday people.
Just think about this, she is only one of 435 Congress persons serving her first stint in that body. Yet, she consumes all the press ink and sucks up all the news oxygen, as if nobody else exists or whose opinions or ideas matter.
Listed below are some examples.
Fox News Hosts Accuse Alexandria Ocasio-Cortez of "Socialism and Communism" for Paying Entry-Level Staff a Living Wage
Alexandria Ocasio-Cortez is so bada** there's literally now a comic book about her life.
She has proposed abolishing ICE, Medicare for all and a 70 percent tax rate on the wealthy. And surprise, surprise a lot of people are talking and thinking about the same things.
Alexandria Ocasio-Cortez delivers impassioned response to critics: "I'm the boss. How about that."
She made Jeff Bezos, CEO of Amazon and the richest man in the world blink, when the company gave up its plans to move to New York.
Probably the last thing that Alexandria Ocasio-Cortez needs is a billboard to get her more attention or notoriety.
But there it was, on 42nd Street in Times Square, a digital attack ad that blamed the freshman Democratic congresswoman for Amazon's decision to pull out of New York, taking with it 25,000 promised jobs.
"Thanks for Nothing, AOC!" the ad read, using Ms. Ocasio-Cortez's initials that became ubiquitous even before she officially set foot in Congress.
To all the right wing pundits who criticize this young, energetic progressive liberal, I say, "back at you." If you send us a person who is all talk from the right, how can you complain when the exact opposite comes from the left.
What is good for the goose, is good for the gander.
If you say the empress is an empty suit with no clothes, the emperor is the same.
Like it or hate it, every one of us has to say, "more power to you New York and you go Alexandria, you go Donald, if you've got it, flaunt it."
It is not your fault if we allow you to get away with your outlandish, outrageous statements and stances. You ride the wave as high as you can, as hard as you can and as long as you can.
Here is the bottom line.
They will continue to lord it over us until we say "enough," until we realize that an "apple," no matter how "big" is meant to be eaten.
Let's have it for lunch.
You rock!!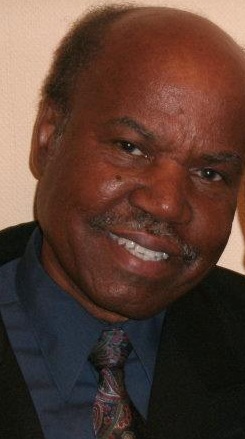 V. Knowles is a husband, father and prison minister with an interest in penning issues that serve to uplift mankind. He melds his love for Classic literature, The Bible and pop culture - as sordid as it may be - into highly relatable columns of truth, faith and justice. Hence the name: Just Thinking. If he's not buried in a book or penning his next column, you may find him pinned to his sectional watching a good old Country and Western flick. He is also the co-author of HOLA America: Guts, Grit, Grind and Further Traits in the Successful American Immigrant

Visitor Comments (0)
Be the first to post a comment!