In Which Major Athletes Can We See Divine Inspiration?
May 10, 2019 • By Contributed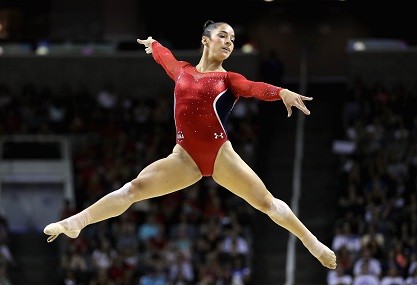 Following the triumph of legendary golfer Tiger Woods at the 2019 Masters, NEWD posted a piece about the visibility of God's work in the tournament. Woods has not always been the most godly figure, to say the least, but there was a near-divine inspiration in his climb back to the top of the sport.

Woods suffered immense public indignity, drastic personal injury, and a virtually unprecedented fall from grace for an athlete of his caliber - only to claw his way back to the pinnacle with what seemed to be genuine thankfulness and humility.

In thinking over all of this, those who follow sports and look for similar inspiration might be inclined to consider other examples of divine fingerprints - or at least godly lessons - in sports figures and their accomplishments. Considering this idea, one can identify a few more athletes who fit the bill.

Aly Raisman (U.S. Gymnastics)- Aly Raisman is one of the most decorated athletes in modern gymnastics history, having been a captain of the U.S. women's team at the Olympics in 2012 and 2016. We also now know though that she was a victim of the sexual abuse that was, for years, rampant in the U.S. gymnastics system. Under no obligation to go public with this information or discuss it in detail, Raisman took it upon herself to share her story in an attempt to help others and shed light on the horrors she faced. Seldom do we see such grace and selflessness, in sport or anywhere else.

"Don't be overcome by evil, but overcome evil with good." - Romans 12:21

Serena Williams (WTA Tennis) - Serena Williams has achieved unprecedented success in tennis, and could easily have chosen to accept it and reap its rewards privately. Instead she has not only strived to perfect her craft almost beyond reason, but has also used her influence to become a powerful voice for change and equality. Williams has been an unrivaled champion, but above all else she impresses with her tireless efforts to make professional tennis the same for women and minorities as it is for others.

"For God does not show favoritism" - Romans 2:11

Stephen Curry (NBA Basketball) - Stephen Curry is one of the most important players in the NBA today. Winner of two MVPs and three NBA Championships, he leads the Golden State Warriors, whom NBA finals betting odds have tabbed to compete for the title yet again. Whether or not the 2019 finals produce a fourth title though, Curry has made an incredible statement to millions of youth about defeating the odds. Undersized, barely recruited out of high school, and doubted in the NBA, he's overcome it all to become an amazing story.

"I can do all things through Him who gives me strength" - Philippians 4:13

LeBron James (NBA Basketball)- LeBron James needs no introduction, but is another NBA star - and the best of a generation. Some believe him to be the best player of all time, in fact. In the midst of his nearly unprecedented success in basketball though, James has found the time and generosity to commit tens of millions of dollars to charities - most having to do with children's education. James even opened his own school in Cleveland, and it's proven to be a resounding success. Like Williams, James could simply enjoy his success privately without raising questions, if he wanted to. Also like Williams though, he isn't content to live this way. James has made a positive impact in untold thousands of lives.

"Good will come to those who are generous and lend freely" - Psalm 112:5

Surely there is a touch of the divine in the acts of these extraordinary athletes - or at the very least, godly lessons for us all to heed.

Visitor Comments (0)
Be the first to post a comment!