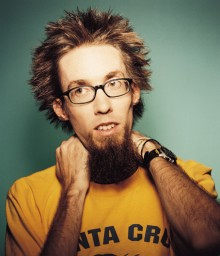 David Crowder is the front man of the rockin' rollercoaster worship band, David Crowder Band.

The band began when David Crowder from Texarkana, Texas, realized that almost half of the students at Baylor University were not attending church, which he found surprising since it is a Christian university. He and Chris Seay started University Baptist Church (Waco, Texas) in 1995 while he was still a student. Crowder led worship there and continued to do so throughout the year. The church's congregation grew, as did the band's lineup.
For more information, please visit www.davidcrowderband.com
David Crowder was featured on our That's Church Music?! program which aired on November 1, 2009.