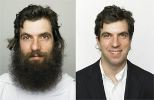 AJ Jacobs is the editor at large at
Esquire
magazine and author of three New York Times bestsellers.
In 2004, Simon & Schuster published
The Know-It-All
. It subsequently spent eight weeks on the
New York Times
paperback bestseller list. It was praised by
Time
magazine,
Newsweek
,
Vanity Fair
,
USA Today
, Janet Maslin in the
New York Times
and AJ's uncle Henry on Amazon.com.
In 2007,
The Year of Living Biblically
was released. It has spent three months on the
NYT
bestseller list, and was praised by
Publishers Weekly
,
Kirkus Reviews
,
The New York Times
Book Review, the
Los Angeles Times
,
USA Today
and others. It appeared on the cover of the evangelical magazine
Relevant
, but was also featured in
Penthouse
. (Jacobs is proud to be a uniter, not a divider).
He has appeared on
Oprah
,
The Today Show
,
Good Morning America
and Late Night with Conan O'Brien (though Conan did decline Jacobs' offer to bring the remnants of his shaved beard in a plastic bag).
The Year of Living Biblically is currently being developed by Paramount Pictures, and My Outsourced Life is being developed at Universal Pictures.
He's now working on a book called
The Healthiest Human Being in the World
. It continues Jacobs' experiential journalism series as he tries to perfect his physical condition while simultaneously dissecting the meaning of the word "healthiest."
Jacobs grew up in New York City. His father is a lawyer who holds the world record for the most footnotes in a law review article (4,824). His wife works for a highbrow scavenger hunt called
Watson Adventures
. He lives in New York with his family.
AJ Jacobs was featured on our program
Living Biblically
that aired on July 15, 2011