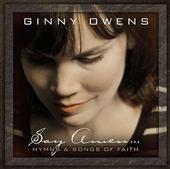 Ginny Owens is a Contemporary Christian music singer/songwriter. She was born in Jackson, Mississippi, with poor eyesight and has been blind since the age of two. She earned her bachelor of music education in 1997 from Belmont University, but found that most people were skeptical about hiring a blind music teacher. She entered the music business by writing songs for Michael Puryear's Final Four Publishing, which led to a number of labels competing for her, before she chose Rocketown Records.
Her music has been featured on television shows, such as Roswell and Felicity. Owens has also received three Dove awards, including New Artist of the Year (2000) and Inspirational Recorded Song of the Year (2001) for "Blessed" with Rachael Lampa and Cindy Morgan.
In 2005, Owens started a non-profit organization called the Fingerprint Initiative. The organization has worked in conjunction with other groups, such as Compassion International, International Justice Mission, and Habitat for Humanity. Owens has just recently released her new album, " Get In, I'm Driving."
Ginny was featured on our program
Blind Faith
that aired August 5, 2011.