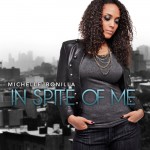 Michelle Bonilla is an Urban Gospel singer/songwriter who released her sophomore studio effort entitled In Spite of Me.
She's back with her producer Lee Jerkins (Out of Eden, Cross Movement) with an inspirational 16-track CD--13 full songs and three diary excerpts--with strong infusions of R&B, pop and Latin melodies featuring Jamaican gospel recording artist Chevelle Franklin, and gospel hip-hop artists Lecrae, Flame, and R-Swift. "My music is a blend of who I am culturally-urban, Latin, rock and soul," says Bonilla.
No stranger to the industry Bonilla has performed in the company of artists as Crystal Lewis, Nicole Mullen, Out Of Eden, and Papa San, and has been featured on Cross Movement's Grammy and Dove nominated album "Higher Definition."
Michelle was featured on our program
Skinny Me
that aired on August 8, 2010.