Becky Harling's life experience as a pastor's wife, mother of four, Women's Ministry Director, survivor of breast cancer and childhood sexual abuse all bring depth and realism to her message.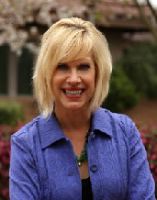 Becky creatively combines Biblical insight with her powerful testimony and the stories of other women who have found hope and healing in Christ.
She has been a featured guest on the Daystar Television Network, Moody's Midday Connection, and many other top rated radio shows. Becky Harling is an author of
Finding Calm in Life's

Chaos
and speaker passionate about helping women find freedom.
Becky Harling was featured on our
The Naked Truth: Stop Pretending
program which aired on Feb. 11, 2012.