Earnest Pugh is a Stellar-nominated Gospel Artist who brought us the #1 singles "Rain On Us" & "I Need Your Glory."
Almost from birth, Earnest Pugh was blessed with a tangible anointing, powerful voice, and gifted to use it!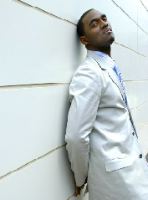 Currently, Pugh is the Director of Praise Ebenezer AME Church in Fort Washington, Maryland, where he serves under the Church Worship and Music Administration, GospoCentric's Prince of Praise Min. Byron Cage and Pastors Rev. Dr. Grainger Browning, Jr. and Rev. Dr. Jo Ann Browning.
Earnest Pugh was featured on our
The Naked Truth:I Need Your Glory
program which aired on Feb 04, 2012.