Exciting and influential young voice in modern gospel music, Myron Butler is making a name for himself as a singer, songwriter, producer, choir director and as the leader of Myron Butler & Levi.Born in Bradenton, FL, Butler's family moved to Dallas when he was twelve years old.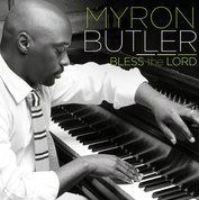 He had begun playing the piano at the age of eight and had honed his craft by the time he placed his first major song "Lift Him Up" with the Dallas-Ft. Worth Mass Choir when he was 17 years old. In March 2010, Butler and Levi released their third CD "Revealed Live In Dallas" (EMI Gospel). Butler serves as the Minister of Music at Bishop T.D. Jakes' Potter's House Church in Dallas, TX that enjoys a congregation of 30,000 people. He and his wife, Timberlyn, reside outside of Dallas with their three children.
Earnest Pugh was featured on our
Spit Truth: Interview with Myron Butler
program which aired on Feb. 2, 2012.