A fresh face and new sound is what she's been called. Her unique fusion of neo-soul, pop, rock, and hip hop. Her mandate to spread the Word of God through the arts.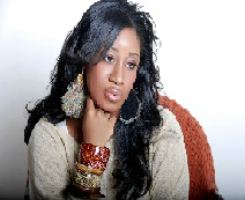 Terri Cannīs mandate to service to His Kingdom is also apparent in past work with such projects as Unity, a Christian Performing Arts Center that brings the wisdom and discipline of God to youth and young adults through the performing arts.
Terri's journey began at the age of eleven, when she prayed and asked God for a voice that would bring glory to His name. She is also a recipient of the coveted Tiffany Award for "Best Lead Actress in a Gospel Play." Bold for Christ, she sings from personal experiences and is unashamed in addressing topics the church seems to shy away from.
Terri Cann was featured on our
Spit Truth Radio: Interview with Terri Cann
program which aired on Jan. 26, 2012.