Haiti, You have a hope. You have a future.
May 15, 2013 • By Tiffani Knowles
What if you had to walk 5 miles in 90 degree weather to fetch water for your family three times a day? And what if because of this task, you had no time to attend school like other children in neighborhoods with a nearby supply of clean water?
This was the story of 15-year-old Ketley and it was masterfully portrayed in the theatrical production of "A Hope and a Future," where Haiti was given the center stage at Community2Community's (C2C) launch of Haitian Heritage month on May 10.
Community2Community (C2C) is a non-profit, service organization whose vision is to create self-sufficient communities by working with the community. Mobilizing resources to support the transformation of developing international communities into healthy, self-sufficient communities through the C2C Haïti Restoration and Transformation Pilot Project (HRTPP) is their mission.
An annual event celebrating Haïti and the Caribbean Diaspora, C2C melded Haitian and Afro-Caribbean jazz with a true-to-life portrayal of life in the rural town of Petit Goave and song, dance and spoken word in an artfully directed production by C2C CEO + FireStarter Marie-Yolaine Eusebe.
Favorite socially-conscious Haitian artists Belo and Emeline Michel were cleverly interwoven into the musical with songs about Haitian resiliency in Belo's "Wozo" and the gratitude of Haiti's people in Michel's "Meci La Vie."
"I wrote this song the day after the earthquake because I was not crying. Everybody was crying. Everybody was losing hope and to me that was a new beginning for Haiti," said Belo. "To me, it was a time to open our eyes so we would decide to live another way."

Despite the horrific conditions that plague the Haitian people since 2010's earthquake, organizations like C2C are rallying with local engineers and tradespeople to build a stronger nation.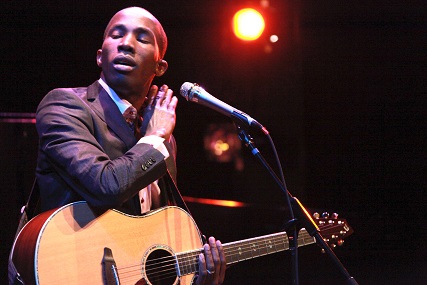 In fact, proceeds from the celebration will help Community2Community continue its ongoing efforts to restore clean water to the towns in and around Petit Goâve. Launched in April 2011, C2C's Water Initiative is designed as a gravity-fed water distribution system that will give their partnering mountainside community access to clean, potable water. It has already helped a densely dry population of approximately 16,000 gain access to water. In 2012, C2C completed Phases 1 and 2 with the goal of completing the system by the end of 2013. In addition, C2C has worked with another partner community to complete the building of 15 latrines.
"The local engineers there are amazing. I was blown away," said Vanessa Leon of Pinchina Consulting, urban planning consultant on the Water Initiative. "A lot of the techniques they have tried, they are without the resources that they need and they do need some technical assistance, which is what we bring to the table. But, it's really steering and guiding what they've begun."
The C2C Water Initiative is of crucial importance to give the people of Petit Goâve a clean reservoir so they don't have to drink the same water used for bathing, washing clothes and for animal hydrating.

As presented in the production, in 2011 there were over 2,000 cases of cholera-related deaths in Haiti, which is about half of those that occurred in Somalia that same year. However, in developed countries like Germany, China and the U.S., there is a zero death toll related to cholera.
Why is cholera not an issue for a developed nation? Its residents have clean drinking water.
City Councilman Jumaane D. Williams, who represents one of the largest communities of Haitians outside of Haiti in Flatbush, Brooklyn, believes that countries like the U.S. have an obligation to help Haiti.
"We owe Haiti so much. As an American, they helped double the size of our nation through negotiating the Louisiana purchase," said Williams. "There were so many things done that we should be repaying them and saying thank you. It is something that they are owed and they are being allowed to languish now after this earthquake."
For more information, visit www.Community2Community.info.


Visitor Comments (0)
Be the first to post a comment!