Theatre Review: Camp Logan = Camp Hope
April 6, 2011 • By Daisy Patino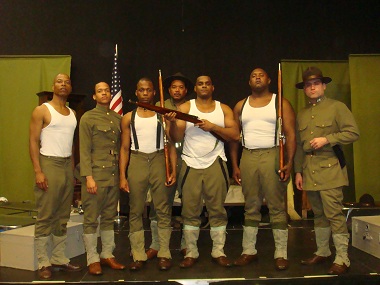 "In the spring of 1917, during World War I, over 150 black soldiers stationed at Camp Logan in Houston, Texas, marched from the military camp to the center of the city in protests of racial discrimination."
But, it is so much more than an event.

In the theatrical production written by Celeste Bedford Walker and directed by Teddy Harrell, Jr., Camp Logan is the true face of a fascist and demeaning society in the 1900s.

Camp Logan tells the story of five black soldiers eagerly awaiting their chance to fight overseas. The play follows the men while they face conflicts involving man vs. man, man vs. himself and man vs. society.
As the play develops, we meet the five soldiers, hearing anecdote after anecdote about their earlier years of duty.

From their tour flings to their hopes of being treated equally, they force us to empathize through laughter and tears.

Camp Logan features a minimal yet authentic set.

As soon as the lights dim and the whimsical tones of music play, the audience is transported 84 years into the past.
The play starts off like any other World War I story would -- soldiers marching to the commands of their superiors, a White and a Black man.
As the play progresses the audience starts to learn the nuances of each character and the shades to their personalities.

Hardin, 19-year-old rookie - played by Barry K. Gibbs - has such an aliveness and bravery that, even knowing the outcome of the events, you still would want to root for him.

This young actor delivers a great performance and is in no way outshone by his veteran cast mates.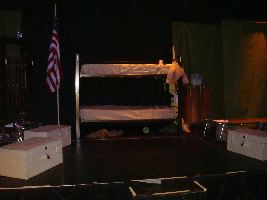 Moses, played by Marcel Black, is more than a soldier.
Black gives such depth to his character that we are able to see the vulnerability of the man in one scene and the anger of the soldier in the next. His range as an actor shines through as he bullies the rookie then is discriminated against while trying to serve his country as a soldier.

Like in any other play, circumstances start to change and so do the characters.

The novelty of being one of the few Black soldiers in this southern town quickly fades as they start to encounter angry white townspeople who are less than happy to have them there. They are shoved and pushed to their limits, until they have had enough.

Refusing to be left behind, the soldiers prepare to fight whomever they have to in order to receive the liberty that they deserve and believe belongs to them.
The strong bond they develop make the 24th infantry anything but ordinary. Ultimately, they become a family full of courage and willingness to sacrifice their lives for what they believed in.

Camp Logan also features astonishing performances by René Granado, André L. Gainey, Finley Polynice, Kristoff Skalet and Anthony Roberts.

With its talented and dedicated cast, Camp Logan is destined for greatness. Camp Logan will leave you with that sense of hope and empowerment that no movie will.

Camp Logan is a story of true brotherhood and rare grit.

Camp Logan is currently a production with the African American Performing Arts Community Theatre from April 7 - 16. Tickets range from $10 to $25.

Visitor Comments (3)