Winners of In the Mix Talent Search 2012 Crowned
July 25, 2012 • By Alicia Ramsay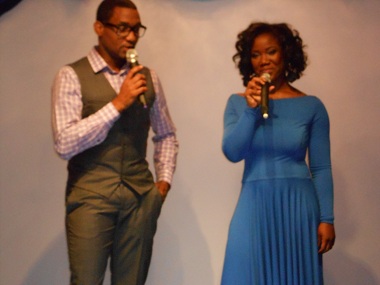 The winners of the first In The Mix Talent Search Competition were announced at the show's Grand Finale on Saturday, July 21. The sound of praise and worship echoed through the studios at BBF Printing and Media in Brooklyn, NY as contestants showcased their talents for the last time before a live studio audience as well as television viewers tuned into LifeZone Television.
NEWD's managing editor Tiffani Knowles co-hosted alongside NEWDradio personality and author, Pastor Andre Harrison. Hailing from the sunshine state, DJ Mr. E of Soul Movement Crew kept the audience in a spirit of hype praise as he played the hottest tracks in urban gospel and even graced the stage at the end with his track "Party Music" from the 2009 album which served as the inspiration for the competition - In The Mix.
The finale judges, including international recording artist Christine Vaindirlis, musical theatre actress Bianca Denis, music producer and founder of JahRock'n Productions Chris "Rock" Belmont and HBO Def poet and singer Shanelle Gabriel, critiqued and encouraged each finalist with useful tips for growth and development.
"There was such great talent overflowing here in this contest," said Denis. "But I encouraged artists to be educated about their craft, to seek growth, mentorship and knowledge on how to continue developing the gifts that God has given them."
First in the spotlight was rapper Richard "King Richard" Marsh who performed his signature song "Goin' In" punctuated with an acapella freestyle at the end. Jonathan "Holli" Haywood followed with a southern-clipped signature danceable piece "Slide."
Both finalists rocked the stage but it was King Richard of Pittsgrove, New Jersey who judges chose to take home the win.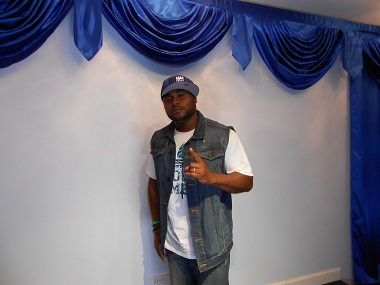 "The experience of coming to New York has been awesome and the experience at In the Mix has been a great growing experience as well," said March,40. "I've learned a lot in just the two weeks that I've been coming as an artist and I've learned to perfect my craft, so I'm excited about my next move."
King Richard cited his desire to handle "kingdom business" as the inspiration behind his song.
"I know a lot of rappers who call themselves going in once they grab the mic or go in the booth or hit that stage," he said. "I wanted to make it clear that the only real "going in" is when you're going in for Christ, cause remember that only what you do for Christ is going to last."
King Richard's zeal didn't stem from growing up in the church, but he claimed he always knew God was there. He grew up in a church-oriented family, but his relationship with Christ didn't start until 1994.

"As I became a man and I got mixed up into some bad decisions and stuff like that, of course naturally, I needed to seek God and I knew exactly where to go," said King Richard, who claimed on stage that he was drawn to Christ after listening to Fred Hammond's Radical for Christ which he bought at a bookstore in Atlantic City, NJ. "I really started going hard for God only three years ago but I made the decision to be a gospel rapper in 2005."

The next category to be showcased in the final round was the well-awaited vocalist category.
In the vocalist category, Raphael "Ralph" Williams slowed things down a bit with his original track "Marked," an apologetic ballad about his getting caught up in street life.

He was commended by judges for taking to heart the feedback about decreasing his use of gestures given during the previous round. Carl Brister, the other vocal finalist, dedicated his performance to the victims and survivors of the recent Colorado theater shooting. His song "Pray for Me" was described by the judges as a platform for ministry.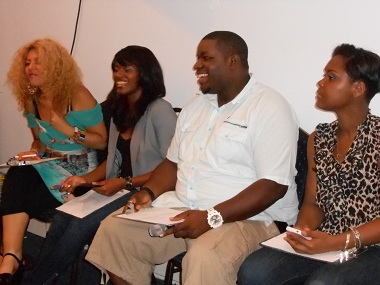 Although both of them crooned to the music, it was Ralph Williams who took the judges' breathe away.
"There was absolutely nothing to critique in that performance," Belmont of JahRock'n Productions told Williams. "Even the imperfections were great."
Williams, of Newburgh, New York, has been singing his entire life, but has only been an established artist for about two years.
"Winning this competition simply says you can get whatever you want if you work for it," said Williams, 21. "I'm excited to see my hard work and practice paid off in this competition."
He states that his past inspired him to write his performance piece "Marked" as he reflected on how he negatively conformed his life to the ways of those around him.

"Because I wanted to be friends with them, I tried to be a part of them and the things they were doing, just to stick out like a sore thumb," said Williams. "So, "Marked" is pretty much explaining why you can't fit in. Even in the midst of the activities you're doing. You are marked by God."
Although he now knows that he can't run from the Almighty, there was a time when Williams dismissed God.

"I grew up in church but I was a rebel. I didn't want to do anything of God or for God," said Williams. "I wanted to do what I wanted to do. I didn't want anyone to force me to receive. I was on my way to hell for sure until God saved me. He didn't have to, especially since I disobeyed so many times over and over. He still chose to save me."
Williams' testimony shows that despite our shunning God's presence, he still desires to comfort, protect and guide his children.
While the judges deliberated, featured guest performers, Ali Willingham, choreographer for dance finalist Broken In Worship, and dancer Calvin Martin reminded everyone that God is our eternal father through their performance entitled "A Fatherless Testimony" ser to "I Need You Now" by Smokie Norful.

After the final performances were complete, the hosts announced the winners in the other two performance categories.
It was the dance ministry group L.I.V.E (Living In Victory Everyday) of Brooklyn, New York who was crowned the winner. L.I.V.E is composed of choreographer Sherille Grant, Christina Celestin and Naimah Jackman. The young women created fluid lyrical movement to the Contemporary Christian worship song "Psalm 9" of Joel Buckner.
"The experience has been wonderful for us, just being able to minister to God's people through the ministry of dance, it was just great," said Celestin, 21, who complimented Grant for following through with the vision and choreography with which God blessed her.

The trio has been dancing together for a little over a month; however, their talents all bloomed in their pre-adolescence around age 9.

Celestin grew up dancing in the church, while Jackman had only ministered through dance once before the competition.

"I have grown closer to God through being here," said Jackman, 19. "He has spoken to me through art and I'm so thankful that we've come this far and that we won because we went through a whole lot to get here."
Grant, who was responsible for founding the group, didn't grow up in the church but was saved in 2008. She confesses that her relationship with God has been rocky.
"When I first got saved I was like 'O yeah, I'm all for Christ but then I shifted back to the old ways and so it was a rocky relationship but now I am so in love with God,'" said Grant, 20, a dance minor at Long Island University's Brooklyn campus . "It's still rough but my relationship with Christ is getting better and stronger."
Celestin did grow up in the church but said her relationship was not where it should have been. She gave her life to Christ at a youth convention a few years ago.
"It was at that convention where I really found Christ," said Celestin. "I really felt him draw me closer. It was like a tug on my heart and I couldn't stop crying...I don't regret that day, everyday is a struggle. He knows what we go through together and he brings me through it all the time."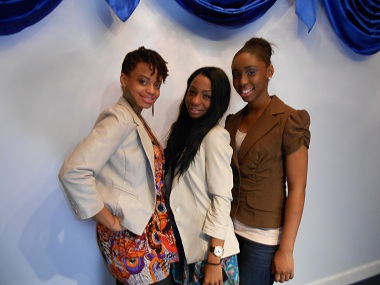 Jackman grew up in a Catholic-oriented household and says she grew closer to Christ over the years.

"Without him I couldn't dance, we couldn't be here," said Jackman. "All through rehearsal all we did was pray. He's always with us, he's never letting us go."
L.I.V.E encourages blossoming dancers and artists of every field to keep praying and not give up on their dreams, even when it seems like someone else may be better.

The winners in the following category also know what it's like to want to give up and accept defeat, yet still pushing through because of faith.
Spoken Strings, composed of Basia Collins and Nichele Litzey, both students at University North Carolina Pembroke, reigned in the fusion/duo category with their original song "Help Thou My Unbelief," comprising soulful harmony and dynamic poetry set to acoustic instrumentation.

The song was inspired by the Biblical passage of the demon-possessed son in Mark 9:1-29.
"It's something that Nichelle and I deal with everyday," said Collins, 20. "Seeing the different trials and different things we face as young adults, we're like, 'God we need you, so help us in the areas that we may not see you as clear.'"
Collins grew up in the church and knew God as a child, but didn't have an encounter with his son Jesus was until age 19. Meditating over Matthew 11:28, "come to me, all you who are weary and burdened, and I will give you rest," she finally decided to turn her life around.
"My life was so jacked up and I needed rest so I got it and now I'm living like I'm supposed to be living," said Collins, who has only been performing spoken word for two years now.

Litzey, 20, also grew up in the church and testifies that she is still pursuing Christ.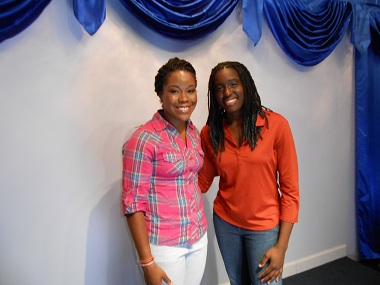 "...You can never reach the top with God. Once you reach the top, you gotta just keep going and I feel like I'm in a place right now where I just gotta keep reaching out to him," she said. "He's always going to be there, it's just me and my willingness."
Spoken Strings encourages aspiring duo/fusion artists to use their talents to glorify God.

"Basia always says that God uses filthy people," said Litzey. " We are filthy people and we are not worthy of what he has planned for us, what he's already done, what he's doing in our lives. He can use anybody. We're just two regular people, college kids and God has found it fit to use us... sometimes our performances don't go the way they should go but we just keep on pressing and seeking his face."
Indeed, anything is possible. The participants of In the Mix have proven that Christ doesn't need to be excluded during times of performance and from the pursuit of success because he is the very source that gives strength and talents.

Each winner is a recipient of press coverage on FNFlive.com, coverage and interview in NEWD Magazine and NEWDradio, an official photo shoot by Zion Images, a promo video produced by LifeZone TV and a personal copy of the all new interactive GloBible.

In addition, the vocalist, duo and rapper will be rewarded with a Demo CD of their work produced by NYC's JahRock'n Productions. Vocalist and duo winners will also receive one-on-one vocal coaching with NYC Vocal Coach Jeremiah Abiah.

Dance winners also receive complimentary group classes at Dance Time Square, home of celebrity choreographer Tony Meredith and Melanie LaPatin.
The 2012 In the Mix Talent Search Competition, produced by M-RYS International, was sponsored by Zion Images, Dance Time Square, Soul Movement Crew, FNFLive.com, Church Boy Clothing, JahRock'n Productions, LifeZone TV and NEWD Magazine.
To view highlights from this season's Rap&Dance Category and Vocals and Fusion/Duo Category.


Visitor Comments (1)