Album Review: Ska/Punk Band Ballyhoo!
August 9, 2012 • By Billy Delgado
No more tomfoolery. No more brouhaha. Ballyhoo! hailing from Baltimore, Maryland, is on the scene with their fourth album, Daydreams, and the new installment is a certain kind of....ballyhoo. Named Daydreams because of the feel-good vibe it gives off, what originally began as a 4-song session turned into this ballyhooed 12 track ska/punk masterpiece.

The first song titled, "Evil Penguin" begins with a nice piano melody. The title stirs up memories of one of Batman's arch-nemesis but the tempo's energy is infectious. The vocalist, Howi Spangler, reminds you of Billy Joe from Green Day on the first verse but the lead singer evolves into a voice all his own as the song progresses. I love catchy choruses and this song starts off on the right note with that. By the end, I still don't know what the Evil Penguin's role has in this song. Maybe it was an ode to the DC Comic villain?

I must warn you. I'm not a fan of Ska Punk Rock so we'll find out by the end of this column if my disdain for the genre still stands. If you don't know what Ska Punk Rock is, it's a combination of Ska (A Jamaican music genre from the 1950s) and Punk rock music. The most famous of American bands known for this style were No Doubt and Sublime (Bands I did like so I may have to backpedal on my warning) and if you're into the genre, you'll also remember The Mighty Mighty Bosstones (who made me dislike the style again and shun it for good).

The energy marches on with "Last night" and it's probably the fading memory of a hard night of partying by the Evil Penguin. Just kidding. It's actually about the regrets of a one night stand (I think). In any event, the skills of orchestrating a catchy hook remain. Seriously, I can never get enough shouts of "Hey" in every punk rock song; even the worst of hooks will sound good with a loud "Hey!" in it. Crunk music is also a big culprit for exploiting this tactic.

Funny that there's a geek in the video that actually looks like a guest cameo appearance from one of the members of The Mighty Mighty Bosstones. He can be seen arguing with another guy in an art museum with a floor covered in empty cans of Red Bull. This might explain Ballyhoo's! frenetic pace set by drummer Donald Spangler or the catering service for the extras in the video shoot. The empty cans then form what looks to be a Hummer, no kidding, and it's an impressive special effect that was probably edited in reverse motion.

I may be wrong but I haven't heard a lot of guitar solos in rock lately. Well, the famine ends here. The rhythmic guitar solo on this song was simple but still added a touch to the song that one won't hear a lot of rock bands do much anymore.

The influence of reggae seeps into a song called "Diamonds." It's about the girls that stick with you through the thick and thin. I can hear a remake from Garnett Silk on this joint. It's a nice slow down and though the production doesn't introduce anything new to the genre, it's still a nice simple piece you might hear on a movie soundtrack that includes a beach scene with fill-in-teeny-bopper-star's-name-here.

Lead singer/guitarist sounds like he had a brief meeting with Beach Boy Brian Wilson to begin the song, "Say I'm wrong." The master engineer smartly placed this song right after "Diamonds" on the album, considering the pace and mood are consistent. The guitar solo gave me the urge to pick up a virgin piña colada.

The stilted rhythm in "Sandcastles" breaks free from any lurking monotony. Howi's vocals complementing the other harmonies have a rich, albeit thin, tone that bring the hooks to life.

"Meathead" was inspired by '70s sitcom star Archie Bunker when said star would tease his son-in-law. Again, I'm just kidding. Ballyhoo! have a few titles to their songs that evoke teasing from me. The arrangements during the verses are fun to listen to. I didn't care for the hook too much but the instrumentation between the guitar, drums and bass keep things interesting. The mix engineer added just the right amount of reverb and distortion to Howi's guitar.

JR Gregory's bass leads the way on "Anti-social" and keeps the mood light despite its contrary title. Ballyhoo! doesn't stray from its identity. Some bands, whether rock or rap, have the itch to throw in a little bit of everything on an album, thus, never creating an identity that fans can be familiar with. You won't have that problem on this album.
Donald Spangler takes advantage of his tom toms on "The Getaway." However, at this point in the album, the songs are beginning to sound too homogeneous. Again, they stick to their identity but that doesn't mean they can't explore deeper territories of sound and evolve just a bit. To be fair to Ballyhoo!, I haven't heard albums 1, 2 and 3 so no one should dare read too deeply into this assessment with that in mind. This is Ballyhoo's! first album as far as I'm concerned. It's the 4th for their loyal fans which seem to be growing day by day since 2011.
However, Ballyhoo! manages to leave on a high note with "Ricochet." It's a mid-tempo song about "keeping your head up in dark times" that begins with Scott Vandrey's endearing piano melody that evokes upliftment - definitely the type of song you would leave for last. Howi and his guitar complement each other during the hook, which is what one may call Ballyhoo's! staple diet throughout the 12-song production.
Though the songs are not boring, there is no new element added to the genre. No new interpretation that I look for with new or indie bands. I look for originality and, honestly, I did not hear any innovative production or a couple of songs that would constitute real risk-taking. The musicians are on point, the vocals are easy to sing along to, but will I play Ballyhoo! in my mp3 player again? Probably not. Is that due to my lack of affection for the Ska/Punk genre? Maybe. But that's where bands with fresh ideas break down barriers of musical prejudice.

Ballyhoo! is fun to listen and a blast while you're playing beach volleyball but Ska/Punk will remain to me what it has been since The Mighty Mighty Bosstones.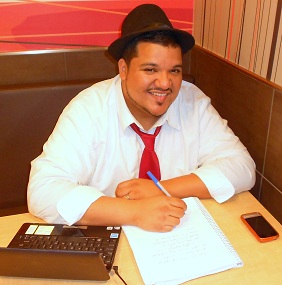 The self-proclaimed Zig Ziglar of rap, Billy Delgado, is a Music Producer/Artist and Writer by day and sleeping pillow-drooler by night. He is currently producing the debut album for his band The 288's, a God-inspired Hip Hop/R&B group that combines soul-baring lyricism with an electric innovative sound, breaking from the norm and reaching all cultures & ages (save senior citizens). He still can't believe he's a family man with a beautiful wife Mari & three boys Chris, Nelson and Joshua, so he continues to pinch himself silly to this day.


Visitor Comments (0)
Be the first to post a comment!