Caribbean Fashion: Carnival on the Catwalk
September 5, 2012 • By Alicia Ramsay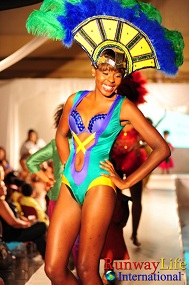 Ringing in the month of September along with New York's Labor Day festivities, Ethel Fashion presented its third annual Caribbean Extravaganza at Friends of Crown Heights Community Center in Brooklyn, New York on Saturday, September 1.
Hosted by NEWD's managing editor Tiffani Knowles, the event was well attended with over 150 guests present to view the varying collections of Caribbean designers both living in New York and who flew in from their native islands.

Their heritage ranged from St. Vincent & The Grenadines, as was represented by host designer Donna Weekes, to Guyana, Antigua, Nevis, Jamaica, and St. Croix. There was also a guest designer from Nigeria, West Africa.
A range of ethnicities was represented among the models as well as age group. There were several children and male models who grabbed the audiences' attention.
"It was a well put together show," said Robert Richards, 40, of Brooklyn New York. "The presentation was excellent. The visual and music was also pretty good."
Though he is not a fashion guru, Richards believes that fashion has changed within the past 30 years with more colorful, vibrant, creative combinations.
He confidently confessed that all the beautiful women stood out to him as they modeled.
Weekes showcased her Carnival collection along with her Candy Girls children's wear that evening, which was reminiscent of her Lollipop collection display at her Spring into Fashion, Then and Now mother's day fashion show in May.
Models catwalked in garments of bright pink, green and yellow. There were swimsuits along with jumpers and casual spring dresses.
Alicia Dewar Designs by Alicia Dewar, another Vincentian designer, was inspired by the famous carnival in New Orleans: Mardi Gras. Her fall jewelry collection was featured that evening. Dewar is a veteran to the Caribbean Extravaganza, however, last year her designs went by the title Earringz n Thingz.
"I changed it because I'm thinking of going into more accessories," said Dewar.. "Right now I just do jewelry but I want to move into purses, clutches, and who knows maybe hair pieces, sandals...it's a work in progress."
Dewar, who is based in Brooklyn, claims that the Big Apple gives her loads of inspiration, but it was her visit down south that inspired the look for the night.
"New Orleans was just so colorful and just so cheerful and everywhere you went you saw these Mardi Gras masks and it was just really inspiring and I was like you know what I want to make a line that's very colorful and sparkly," said Dewar.
Dewar began taking bead-weaving classes after being inspired by the intricate jewelries she saw in magazines. Although it started off as a hobby, she began to educate herself about the craft and from there sprang a whole collection.
"I was more happy with my pieces this year because they were a little more interesting and showed better on stage," she said. "I loved the models, they were all so cheerful and into it."
Dewar, who has been in the fashion business for the past 6 years, is currently working on a holiday line and hopes to have a preview on her website by late October, early November.
Amongst the wave of newcomers was Amel's Collection of Fashion by designer Rashid Walker of Antigua.
Walker's designs were heavily influenced by West African fabrics and textures, which he said he was introduced to by his cousin who brought some fabric from Canada that sold rapidly on the island of Antigua.
In terms of presentation, his segment's creativity was perhaps the best for the night. His male models were painted with white stripes on their cheeks and bridges of their noses. If his native country was not announced, one would think he was a West African designer because of the authenticity of his collection.

Many of the evening's designers agreed that the incorporation of more than just the traditions of one's native land are imperative to survival in the grueling fashion world.
"When you get into the fashion industry you cannot be limited to where you are, or where you're from," said Karl Brown of Khalil's Hattitude, whose Christian faith along with that of his mother (who was the inspiration for his hat line) has grounded his passion for fashion.
Brown represented Jamaica with his High Noon hat collection inspired by prime time tea. He believes that in order to get to the next level in fashion, one has to think internationally.

With Jamaica recently celebrating its 50th year of independence, Brown believes that fashion on his island has truly evolved over the years.

"When you look back to see where we're coming from, where fashion is. It's really taken leaps and bounds and Khalil's is just here to take it to another level."
Family seemed to serve as the backbone and inspiration for most of the designers that evening.

Weekes along with designers Gevandean Jean, Monica Caleb and Walker all credit their family's matriarchs with exposing them to their first needle and thread.
Walker hails from a family of seamstresses, from his great-great grandmother to his sisters. It's a kind of heritage of tailoring that has lingered and flourished within each generation on both his parents' sides of the family.
Growing up, he designed for fun by sketching what he wanted to wear, but has been an official designer since November 2011.
In fact, he is the winner of the 2011 Antiguan National Independence Fashion Challenge for his coconut tree-inspired dress.
"We had to make a dress made of wood so I made it out of coconut husk and wood shavings. It was one strap with a big green top."

The win opened doors for Walker to travel to Guyana for their fashion week. Soon after, Weekes saw his collection and extended an invitation him for this year's Caribbean Extravaganza.
This October, Walker will be traveling to Nigeria for the Nigerian Fashion and Style 2012.
As a way to link arms as members of the Diaspora, Weekes invited a native Nigerian designer as a guest onto this year's program.
The collection of Moshood, whose shop is based in downtown Brooklyn, incorporated black and white into his various colored stitchings along with his famous Moshood/African spirit symbol.
"I enjoyed the Nigerian designer," said Yolan Finley, 49, of St. Vincent and the Grenadines during intermission. She was introduced to the Extravaganza through a friend of one of the designers.
Finley agreed that the designs were unique but remained relevant to today's culture.
"That's the thing about fashion, it can never fade out. There's always some fresh new idea that is always inspired by something old," said Walker.
Monica Caleb, designer of Designs by Moe, hopes to make a change. The Guyanese native plans to be more eco-conscious with her upcoming collection by using more organic and natural fabrics.
"It's still a learning process for me," she said. "Just learning about the natural products and how they're manufactured. Everything right down to the kind of dyes and stuff that they use, the threads, biodegradable fabrics, products as in wooden buttons as opposed to the plastic buttons."
Her designs at the Extravaganza were inspired by the calmness and serenity that she feels in her life and her surroundings, hence the title "Cool Hue." The line featured neutral colors such as beige, pale gray, black and navy.
A 12-year veteran in the fashion industry, Caleb acknowledges her mother for her journey. Her mother sewed her school uniforms, then Caleb became interested in designing while in college.
She also has another line titled Monica Caleb designs which is more of a one of a kind couture line.
Caleb, who resides in Williamsburg, Brooklyn states that she finds pleasure in knowing that she loves what she is doing.
"I'm doing this for me, I'm not doing this for my family or for anyone else," she said. "And the best part of it is waking up every morning feeling happy and saying this is my work, this is my business, this is my life."
Shanti Vincent of Aye Shanti Designs of Grenada also takes pleasure in her work-- designing items to accentuate the clothing of the modern women.
"...I see it as my daily life and I see it as something I want to enjoy, so my motivation is just keeping a really good outlook on life and always being inspired by everything that surrounds me."
With a Caribbean dance background, accessories were always a part of Vincent's performance life. Her jewelry adorned the models who wore black swimsuits. Her collection ranged from green to beige and other tribal-inspired styles.
She was actually born in the U.S. but identifies herself as a Grenadian because her mother allowed her and her sister to travel to Grenada three to four-times every year to spend time with her grandmother.
Vincent uses her jewelry to celebrate Caribbean women. She was inspired after doing a thesis a few years ago titled "Women of the Sun," which emphasized the life of the Caribbean women.

She holds unto a saying by Caribbean author, Netaji Haneef : "We of the Caribbean have come from a tradition of fine women of integrity, intelligence and spirit."
Although it was her jewelry that was showcased during the show, she does eventually plan to design clothing. Vincent also has a stationary line titled Mango, paper, scissors. The mango hints at her favorite fruit and a bit of Caribbean flavor.
While many of the designers celebrated their Caribbean heritage, there was a more "American" message that one of the designers explicitly portrayed on his clothing.

Clayton Foster of Foster Child Clothing showcased his line of T-shirts featuring statements like "Brooklyn on my back," "Red Fox," "Fame vs. Fortune" and " I love money."

"Which one would you choose, which one would you rather; the fame or the fortune," he said. "Most of my shirts do speak a message, some of them don't, but most do."

Representing St. Vincent & the Grenadines, Clayton is stationed in Brooklyn, New York. His next project will focus on a fall collection.
Not only did the Extravaganza feature clothing but also the art of makeup. St. Kitts and Nevis was represented by makeup artist Charlyn Blake also known as Chacha B.

Her line "Flamboyant in Paradise" was featured that evening, exhibiting colors inspired by flamboyance, trees, hibiscus, lace and "fabulosity."
She was introduced to the Caribbean Extravaganza through word of mouth by a co-worker of host designer Weekes.

Blake has been doing with makeup for about 8 years.
One of the most interesting collections featured was AdianiC by Adisa Christopher of St. Croix, Virgin Islands.
Her designs comprised bandages, elastic and straps, while incorporating some conservative pieces.

She states that her family and the many people of St. Croix believe in her work.

The 22-year old has been in the fashion business for 10 years, having begun sewing at the age of 12.
She is based in New York and may be traveling to Atlanta soon to increased exposure for her brand.
"I'm going to always embrace the fact that I'm Caribbean because that's what's going to set me aside from a lot of people," she said. "And even within the designs, sometimes I might not see it but from the outside looking in people can tell that I am a Caribbean designer because of the colors I use or how I mix colors together."
Christopher designs carnival costumes for St. Croix in the Virgin Islands for their celebrations held on the first Saturday of January.

She added that it is the passion for fashion that unifies designers.
"You must love it in order for it to become something bigger than it really is. So that's what would tie us all together and just trying to be different from one another."
One is never too young to express their passion for fashion. Gevandean Browne of St. Vincent & the Grenadines knows this as he was the youngest designer to present that evening.

The designs of this 20-year-old was one of a kind. They mimicked a zombie-like, contagion era as models strut across the stage in denim jackets painted in a mixture of yellow, green and brown from the elbow downwards and detailed with gold safety pins, buttons and threading. These were worn along with matching mouth masks, and neck pieces similar to scarfs.
Other designers featured that evening included St. Vincent's Janiela Roachford of Bella Rose Beauty, Trinidad and Tobago's Tiffany C. La Pierre of Zacon, Inc.
Ethel Fashion's 3rd annual Caribbean Extravaganza was sponsored by Friends of Crown Heights Community Center, Conrad's Bakery, Essential Cakes Inc. NEWD Magazine and several other Brooklyn businesses.

Photo Credit: Runway Life International

Visitor Comments (1)