Religious Films, Don't Fake the Funk
September 20, 2012 • By Billy Delgado
The last Christian movie that left me blown away and dubbing it as a "Classic among classics" was...you guessed it, Passion of the Christ. It was directed by Superstar/Director Mel Gibson who is known more for his devotion to Catholicism and mindless rants than to Bible-based Christianity. No offense.

For the most part, Christian movies have left me (for the lack of a better word) under whelmed. Bad acting (not naming names). Corny cookie-cutter scripts (the prodigal son in modern times remade over and over again). Geographically inaccurate (Middle Easterners shouldn't have English accents and blue eyes). Poor story-telling. Etc. Etc. Etc. Christian film has left a poor taste in my mouth.

With pro-sumer video technology now at our fingertips coupled with a demand for movies you wanna take your kids to without them learning new dirty words, Christian movies, in my opinion, have stepped their game up recently.

I've seen two movies recently distributed by the same movie studio, Pure Flix. Pure Flix has a mission to create Christ-centered movies for the purpose of changing our culture for Christ. That's a good cause, but "nice" doesn't guarantee ticket sales. However, Pure Flix has impressed me a little lately with two of their many movies, Escape and Jerusalem Countdown.

Jerusalem Countdown is based on a novel written by Evangelical Pastor John Hagee. The story is about an FBI agent who is tracking down terrorists bent on nuclear destruction of the U.S. It zeroes in on the conflict within Israel surrounding Islam. It begins with gunfire and violence. Yes, guns! I yelled to my wife, "People are dying from guns! Wow! I like it already!"

Gratuitous violence, notwithstanding, Christian filmmakers are warming up to the idea that in order to tell a story that contains violence, you need some form of, say, violence to be portrayed on the screen. Sounds simple but sometimes the cookie-cutter mentality of the directors (who mean well) undermine the authenticity of a plot and instead settle for portraying action sequences that feature street thugs who say "Gosh darn" and cops who come home to a Brady Bunch family.
Now, I wasn't blown away by Jerusalem Countdown. I've seen better action/suspense movies. It was no Body of Lies or Bourne series, but I gave the movie an "A" for effort. I want to support my brethren when they make movies just as I support brethren when they make Hip Hop albums, too. All I ask is that you don't make me buy a ticket or a CD just because I feel sorry for you. I want to actually LIKE your movie/music rather than PITY it. So, I see progress being made. But I don't want progress to be stifled by any form of sugar-coating.
Amazingly, the Bible doesn't sugarcoat! It's actually quite graphic. You want Alien Science Fiction? You'll find Angels choosing human wives and creating Giant offspring! You want Drama? Israel's greatest king has an affair and murders his mistress' husband. You want action? There are wars upon wars in the bible. You want Romance? Look up King Solomon and his mad love affair with his Shulamite bride. You want horror? A priest cuts up his dead concubine in 12 pieces in the book of Judges! You want superheroes? Read how Samson takes out 1,000 Philistines with the jawbone of a donkey.
The Bible is a testament that truth is stranger than fiction when one stumbles upon some of these bizarre stories.

In film, there is a way to portray reality in a tasteful way. I'm not advocating that we show a man thrusting a spear into the bodies of a fornicating couple (Numbers 25) for the sake of making a gory flick but if it's an integral part of the story, you may need CGI effects to hook it up.

Mel Gibson is a traditional Hollywood actor/director, so he knew the importance of character development and effective storytelling. He knew the importance of the images SHOWING you his vision rather than TELLING you his vision. You'll see ribbons of flesh in Jesus' back without apologies. And you know what, nobody was taken aback by the gore. Rather, they watched in humbled admiration for what the Lord put himself through for the love of the world. The tears to his flesh were a symbol. Those scenes were not taken as exploitive or gratuitous. Christians aren't dumb. We know the difference.

Why does it take a "worldly" director to show us how it's done? I'm sure a lot of Christians won't admit it but Kanye West's hit song "Jesus Walks" was probably one of the best Non-Christian Christian Hip Hop songs ever.

Why? Because we want to say the same thing but either our level of talent is lacking or we're scared to be "real" when expressing the gospel through our eyes.

We can't blame money. YouTube and Hi-def cameras on your iPhone makes the excuse of lacking funds obsolete. Laptops INCLUDE film editing software. The Blair Witch Project was reported to have spent as little as $20,000 on its budget and grossed $248 million! That's insane!

Tape starring Ethan Hawke and Uma Thurman takes place in a motel room throughout the entirety of the film with ONE REAL TIME TAKE! No cuts! Uninterrupted dialogue! That's genius! All it takes is a great script, good actors and sharp storytelling. If the CGI effects aren't doing the story justice, stop filming! X-Men didn't get made until technology caught up with the comic book.

Back to Pure Flix, I saw the movie Escape. It's a well-produced movie about an American doctor taken hostage in Thailand. In fact, the trailers that came before the film were under the same distribution umbrella, which left me curious. I want to see their other films. I want to see The Mark which is about the mark of the beast, obviously.
Christian film has a little ways to go. We don't need a character saying the "sinner's prayer" in every single movie. Let the story speak for itself. Don't get me wrong, I'm a little excited. I feel like the harvest is ready for these movies. I feel like there's bound to be a blockbuster. I hope I write that blockbuster. The professionalism and polish is stepping up.

I know it can't be as easy as I'm making it sound. It must be tough for screenwriters and directors to create these movies. How do you convey the cruel, unforgiving people in this world without them actually doing cruel things and spouting unforgiving vulgarity? One swear word and you're bound to get loads of criticism questioning your Christianity. Not enough realism and you're just another Christian movie that doesn't get taken seriously by Hollywood or its investors. No investors? Then you'll have to settle for the inexperienced youth pastor to play the lead role rather than lure Denzel Washington to the action.

Some of you may point to a famous cross-dressing director who churns out movies like hotcakes AND who also manages to squeeze a God-message in there with a nice sentimental scene or two. But, are his movies changing our culture for Christ? Sorry, I don't see it and the Lord may not be calling him to make movies as ministry. The Lord may be using him in another way. Ministry can and should also take place behind the scenes on the set. Ministry can and should continue after a gospel rapper gets off the stage and goes back to the work force.

I'm even impressed with the videos my own church has been doing recently and they're just testimonials of people that have come to Christ. They are simply well-done and professional-looking -- above the average YouTube upload. I have friends that have made interesting videos that I could very well see in a theatre. It doesn't take a Titanic budget to tell a great story. You can be creative in order to compensate for technical shortcomings. Film amateurs do it all the time. Our standards should be the same in regards to creating in excellence and putting certain taboos aside.

The fact is people die from gunshot wounds just like people in the Bible died from sword wounds. No, kids aren't always smiling and praying for you when you come home from a rough day on the job. Sometimes they're fighting for the PlayStation controller. We can still make flix and portray the reality of our world. That certainly won't make you less Pure.
Here are a few Christian movies that have gotten nice reviews in no particular order:
Passion of the Christ
Courageous
Faith like Potatoes
Second Chance
Fireproof
To Save a life
Saving God
Jerusalem Countdown
One Night with the King
The Nativity Story
If I'm forgetting any, feel free to add them in the comment section.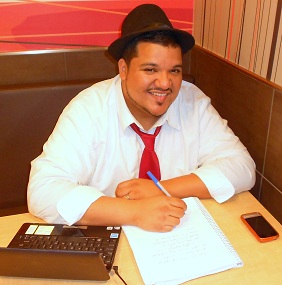 The self-proclaimed Zig Ziglar of rap, Billy Delgado, is a Music Producer/Artist and Writer by day and sleeping pillow-drooler by night. He is currently producing the debut album for his band The 288's, a God-inspired Hip Hop/R&B group that combines soul-baring lyricism with an electric innovative sound, breaking from the norm and reaching all cultures & ages (save senior citizens). He still can't believe he's a family man with a beautiful wife Mari & three boys Chris, Nelson and Joshua, so he continues to pinch himself silly to this day.


Visitor Comments (0)
Be the first to post a comment!