Brooklyn Fashion Week(end) Pushes Eco
September 28, 2012 • By Tiffani Knowles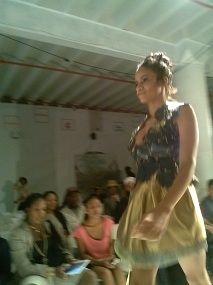 The opening night of Brooklyn Fashion Week(end) at Industry City on September 27 gave attendees a glimpse into the art of re-designing refuse to become gorgeous pieces of avant-garde fashion.
At this annual fashion extravaganza that takes place just a few weeks after the Mercedes Benz Fashion Week at Lincoln Center in New York City, designers local to the borough of Brooklyn showcased their finest designs for the female form.
Carlos Scissura, president of the Brooklyn Chamber of Commerce, greeted audiences in the most jovial manner as he boasted about the tremendous talent found in the borough.
"Manhattan you're out; Paris, forget about it. It's all about Brooklyn," he said.
Sha'lik Harford, head of I Style Stars, hosted the event and let attendees in on the eco-conscious theme of the night that dictated the creations of most of the designers.

"What we try to do is bring awareness to what it means to recycle wardrobe. There are people in the world who don't have clothes. It may be old to you but it can be new to someone else,"said Harford. "Someone's trash is someone else's treasure."
Designers like Iliana Quander of Amparo who used materials like safety pins as detailing for vests, Sohung Tong of Sohung Designers who used zippers to embellish a hoodie and Trudy Miller who incorporated lace and piping managed to truly embody the term recycled fashion.
"I want my work to be very edgy but it still can be elegant," said Tong, who is originally from Hong Kong.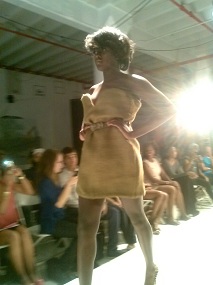 Jewelry designer Lisa Sellers of Mad Big Fro Designs was in attendance and had a great deal to say about Bridgett Artise.
"The way she combines colors and textures and fabrics is so unique," said Sellers. "The way she re-worked that suit and made it into a funky little jumpsuit. It was an edgy and sophisticated twist.
One of the highlights of the evening was the platform given to student designers from Maxwell High School in Brooklyn.
A burlap cocktail dress with a swooping neck was designed by 18-year-old senior Charles Moore; it received a roaring applause.
"It took me one week to design that dress. We were doing a '50s, '60s look and it had to be eco-friendly," said Moore. "I love kings and queens and how they dress. And I wanted my model to look like a queen."
The other designers featured on opening night were Jaime Joseph and Callula Lillibelle.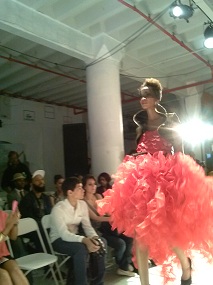 Still, the designer who received the most audience approval was Sohung Tong.
"His designs were more up to date and at the same time, there was flash. That's my style," said Vladimir Venger of Brooklyn.

Brooklyn Fashion Week (end) continues tomorrow and Sunday, September 30 at Industry City, 241 37th Street in Sunset Park, Brooklyn.
The event is sponsored by News 12 Brooklyn, Hotel le bleu, JTE Spirits, design [moves], Banks Beer, Sonu Water, Dee and Ricky's, Fashion Edits, MTV Staying Alive, Industry City, Brooklyn Tourism, Flippers Entertainment World, XEX Magazine, 1921 Tequila Mexico.

Visitor Comments (1)