Music Review: Katy Perry's Wide Awake
October 8, 2012 • By Billy Delgado
Without pain, we would never understand what we have in joy and happiness. Without pain, we would have no physical or emotional indicators letting us know that something is wrong. Pain can be used as a motivation tool in any area of life, especially artistic creation. Pain can keep us down and depressed; conversely, pain can make us write, paint, sing or dance.

Emotional heartache inspired Katy Perry to co-pen the song "Wide Awake." It was a song written for her movie Katy Perry: Part of me and a bonus track to the deluxe edition of her album Teenage Dream: The Complete Confection.
Perry told MTV "it's kind of like coming down from a high. You've been on cloud nine for so long, and it can't always be so sweet and sometimes you need to realize that, and have to pick yourself up and move forward...know that this is just a lesson you learn and you're stronger because of it."
Katy Perry recently divorced comedian/actor Russell Brand. Though the split was "amicable," Perry's latest songs seem to indicate more to it. The divorce was anything but painless and the marriage more than regrettable if you were to hear the lyrics to her song "Wide Awake."
Beginning in soft rhythmic synths, the song sounds like an obvious reference to her relationship with Brand. Perry soars on the lead vocal of the mid-tempo rhythm, searing our minds with the constant echo of harmonies, singing "I'm wide awake." She then lets it all out on the chorus, singing:

I wish I knew then
What I know now
Wouldn't dive in
Wouldn't bow down
Gravity hurts
You made it so sweet
'Til I woke up on
On the concrete
There are some Biblical undertones that appear. Perry doesn't over-sing the vocals but the emotion of the moment is still evident:

I'm wide awake
Yeah, I am born again
Out of the lion's den
I don't have to pretend
And it's too late
The story's over now, the end
I'm wide awake
God knows that I tried
Seeing the bright side
I'm wide awake
I'm not blind anymore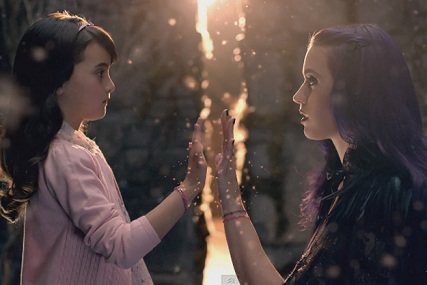 The video, laden with heavy symbolism, gets even trippier. It begins with Perry wrapping up a previous video and heading toward her dressing room. In the dressing room, she is found staring into a mirror then disassociates herself from reality into an Alice in Wonderland/Labrynth type of place where she finds herself in childhood form.

Both her young and old self proceed together into the maze. On the journey, Perry is stalked by the paparazzi, is set free from a mental institution by her core persona, punches a deceptive Prince Charming in the face, and is spied by a cat made of green bushes.

Is Katy Perry truly wide awake? By the end of the video, she is back in her dressing room, back to the reality of her relentless tour schedule and performances. Back to the mandate's of fame.

From the metaphor of the video, I'm sure Perry has surmised that it's best to move on from a failed marriage. Any of you biting your lip from telling Perry: "I TOLD YOU SO?" No need. From hearing this song, she does it to herself.
I once heard this rapper on Chris Brown's song "Deuces" say "If you knew better, you'd do better..." Can we be honest and confess that that's not always the case? King Solomon, the wisest man that ever lived (arguably much wiser than a Katy Perry), knew better than to marry women from other pagan nations, but that didn't stop him. Samson was told not to fool around with the manipulative Delilah but he wanted her anyhow.

How many relationships did we jump into knowing full well that there was a high probability of a not-so-happy ending? We try to rationalize the decision and some of us resort to what is called "missionary dating" in the hopes that by dragging them to church they would miraculously grow into relationship with God.

Most of us have made this dumb mistake when we get infatuated with someone. I think I made this mistake more than twice. But there was a moment where I said enough was enough. I made a commitment to doing things God's way. If I keep compromising, soon there'll be nothing left to compromise when I meet the woman God intended me to marry. I was "Wide awake" just like Perry, decided to delete a phone number from my cell phone and raced back to the Lord's arms.

I'm sure Katy's parents weren't THAT thrilled about her marriage to Brand. We've rolled our eyes and thought, "Another Britney and K. Federline." But Katy, herself, was blithely walking through her dreamy labyrinth and didn't see it coming. Now she has a hit song to show for it. Were the Billboard Charts worth the pain? I would guess that no financial success is worth the price of a failed marriage.

Fortunately, the Grace of God sees things differently and He'll turn our failures into success. He'll make treasures out of our mess. God is so gracious and forgiving that He's not into saying "I told you so!"

Perry funneled the heartache into MTV glory. Whether you think that's right or wrong, remember the father in the parable of the prodigal son who waited and waited for his son to come to his senses. Did Perry learn from it and grow stronger from it? Only time will tell.

Ironically, this is the first song I ever liked from Katy Perry. We can thank my wife for that because she wouldn't let me change the radio station whenever it came on and now it's stuck in my head. I felt duped when co-writer Bonnie McKee explained that the song was a calculated departure from her previous works and an evolution to a more mature sound.

Let this not be a lesson about diving into foolish decisions with the worse case scenario or consequence being a hit song. Katy's situation is the exception and not the rule. Her life still has more chapters to go. God will always be there to fix our mess, but some people come out of their pits with real scars like AIDS and heartbroken children. Only Hollywood and the pop media make divorce look easy.

Katy sings in a dark controlling world and we can only pray that she comes out of it unscathed. Even though she sings that she's "wide awake," the video implies that her journey is not yet finished.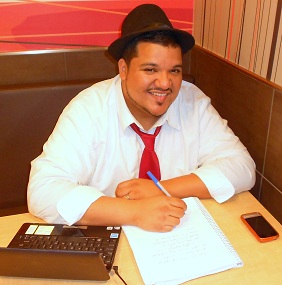 The self-proclaimed Zig Ziglar of rap, Billy Delgado, is a Music Producer/Artist and Writer by day and sleeping pillow-drooler by night. He is currently producing the debut album for his band The 288's, a God-inspired Hip Hop/R&B group that combines soul-baring lyricism with an electric innovative sound, breaking from the norm and reaching all cultures & ages (save senior citizens). He still can't believe he's a family man with a beautiful wife Mari & three boys Chris, Nelson and Joshua, so he continues to pinch himself silly to this day.


Visitor Comments (2)